2020 Jeep Wrangler EcoDiesel: Extreme in Many Way$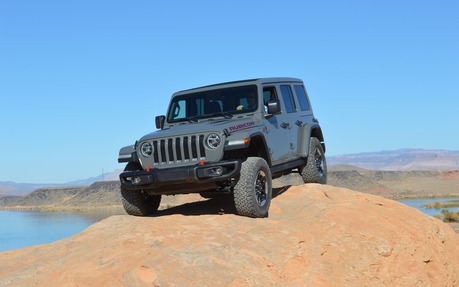 After launching a four-door variant and a pickup truck based on the Wrangler, Jeep has found yet another brilliant (?) way to attract customers: a turbo-diesel engine.
The Car Guide was invited to Utah to put it to the test, so here are our first impressions...
Torque Galore
We're obviously talking about the same 3.0-litre EcoDiesel V6 that's available with the 2020 Ram 1500. It produces 260 horsepower, which is not particularly impressive. However, the 442 pound-feet of torque sure are.
Jeep engineers made some modifications to the engine, mind you. For example, the alternator is mounted higher to avoid damage in off-road driving.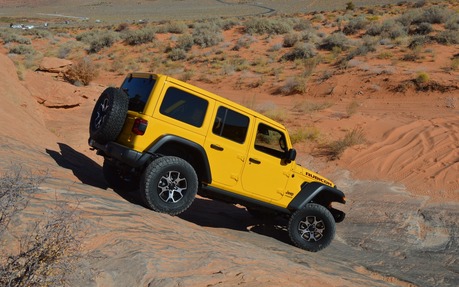 Unfortunately for purists, the diesel engine cannot be had with the manual transmission, only the eight-speed automatic. The latter does a fine job, admittedly, and is well suited to this application.
Unlike the four- and six-cylinder gasoline engines in the Wrangler lineup, the new EcoDiesel is exclusively offered on four-door Unlimited models. Why? FCA says that's where most of the demand is.
Way Too Expensive
When the next-generation (JL) Wrangler arrived in 2018, consumers saw the price jump by $6,000—an outrageous increase to say the least. Now, it gets worse. In Canada, the EcoDiesel option for 2020 costs $7,395, not counting the $1,795 premium for the automatic transmission. As a result, the cheapest diesel-powered Wrangler (Unlimited Sport) you can buy starts at a whopping $43,495.
In our opinion, the company is asking for way too much considering the benefits you actually get.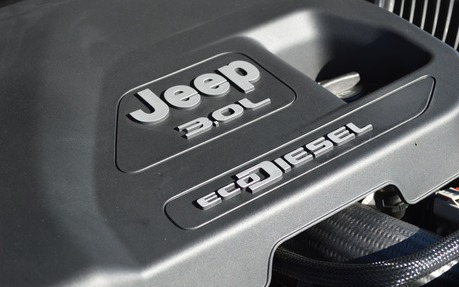 Think about this: even with the 442 pound-feet of torque, towing capacity is not any higher than the 3,500 pounds achieved by the 3.6-litre Pentastar V6 and the turbocharged 2.0-litre four-cylinder. According to FCA, it all depends on the chassis, not the engine.
Furthermore, the Wrangler EcoDiesel is about 400 pounds heavier than the Pentastar-equipped model. The extra weight also comes from added noise insulation material to make it easier on passengers' ears, but quite frankly, as soon as you exceed 50 km/h with this vehicle, road noise and wind noise is so loud that you stop hearing the engine.
4 x 4 = Wrangler
The Jeep Wrangler has built its reputation on extreme off-road capabilities. The new EcoDiesel is no exception.
At the media event, we first spent time in a Sahara model and later tackled rocks and sand in a Rubicon. It was the most challenging course I've ever seen in my career. Some of the obstacles looked pretty daunting and I didn't see how the Wrangler could overcome them, but it went from start to finish like a champion.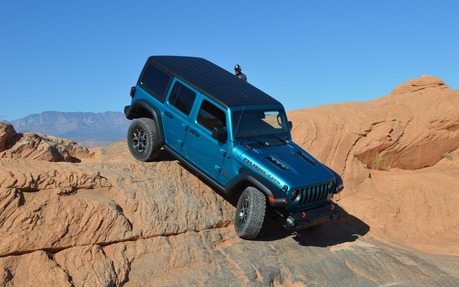 We know Jeep's iconic 4x4 is tough, but concerns about reliability are still present. The previous two generations of the EcoDiesel performed poorly in that department. Will this time be any different? Until further notice, buying a diesel-powered Wrangler remains a gamble.
Incidentally, a few days prior to writing this review, FCA Canada issued a recall on 50,000 units of the 2014-2019 Ram 1500 equipped with a diesel engine because the exhaust gas recirculation cooler could crack internally and leak, possibly resulting in a fire.
One more thing… It used to be that diesel engines allowed customers to save big on ownership costs versus gasoline engines. In recent years, however, those savings have melted faster than snow in April. FCA has yet to release fuel economy ratings. When it does, we'll have a better idea of the vehicle's real value.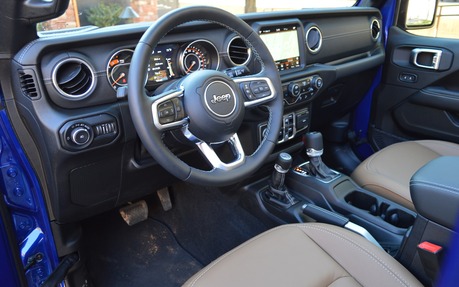 Verdict
While the 2020 Jeep Wrangler EcoDiesel might appeal to diesel enthusiasts, the benefits simply don't justify the high price. We can't really recommend this product. It's best to opt for the cheaper, battle-tested Pentastar V6 instead.
Test drive report
Test model

2020 Jeep Wrangler

Trim level
JL Sahara Unlimited V6
Price range
N/A
Price as tested
45 495 $
Warranty (basic)
3 years/60,000 km
Warranty (powertrain)
5 years/100,000 km
Fuel economy (city/highway/observed)
N/A
Options
N/A
Competitive models
Chevrolet Blazer, Ford Bronco, Ford Edge, GMC Acadia, Honda Passport, Hyundai Santa Fe, Nissan Murano, Subaru Outback, Toyota 4Runner
Strong points

Impressive torque
Power-folding soft top

Weak points

High price of diesel option
No manual gearbox or two-door variant
Reliability remains a concern

Editor's rating
Fuel economy
N/A The official fuel economy ratings have yet to be released.
Comfort
The Wrangler has never been big on comfort.
Performance
The new EcoDiesel engine delivers impressive torque.
Infotainment
The UConnect system is still excellent.
Driving
The Wrangler is traditionally fun to drive.
Overall
Unfortunately, the benefits of the new EcoDiesel engine don't justify the high price.