2020 Kia Stinger: Unfairly Shunned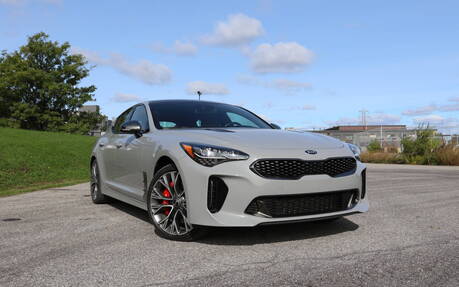 The Kia Stinger is a Kia unlike any other, a sports car in sedan clothing and the only product in the lineup that's designed with the goal of beating the Germans at their own game.
But how? Well, the Korean automaker went all in during the development of the Stinger, creating an inspired design that seemingly gets unanimous approval, honing the car's skills on the Nürburgring, elevating performance to remarkable heights and packing lots of features and amenities for the price.
Seriously, what more could you ask for? The easy answer is brand prestige, which is not an easy thing to build and secure.
As a result, sales of the Stinger continue to suffer. Last year, Kia found just 1,569 takers in Canada. A year before that, it was 1,682. Meanwhile, rivals from Audi, BMW and Mercedes-Benz sell 3-4 times more units annually. 
Strong and Dynamic
Although it lacks a German badge, the Kia Stinger definitely belongs in the same league in terms of driving dynamics and performance. For starters, the twin-turbocharged 3.3-litre V6 under the hood generates 365 horsepower and 376 pound-feet of torque. Mated to an eight-speed automatic transmission, it shoots the car from 0-100 km/h in just 4.9 seconds, according to Kia.
From a driver's perspective, acceleration feels strong and passing manoeuvres are over with in no time. The autobox is properly calibrated to make the most of the power on tap. And if you want to row your own gears, the paddles on the steering wheel deliver quick and precise shifts.  
Natural Resources Canada rates the 2020 Stinger at a combined 11.8 L/100 km. The computer in our tester gave us a reading of 11.4 L/100 km, which is par for the segment. You can go below 10 L/100 km on the highway while exceeding 14 L/100 km in the city, where the twin-turbo V6 likes to burn more fuel.
When it comes to handling, all those hours spent testing and pushing the car on German turf paid off big time. The Stinger displays superb balance and proves a real treat to drive. While steering is not quite as sharp as Audi's or BMW's, the difference is rather negligible. The brakes are powerful, easy to modulate and overall pretty satisfying.
Equipped with standard all-wheel drive in Canada, the Kia Stinger has a delightful rear-wheel bias, especially in Sport mode. Engineers did a great job with the suspension so you can attack long, sweeping corners and tight turns alike with confidence.
A Chink in the Armour
Of course, the Stinger is not perfect. While we highly appreciated the driving experience, including the comfortable and nicely finished interior with ergonomically positioned controls and Kia's user-friendly infotainment system, we heard some cracking noises coming from the rear hatch, typically when encountering rough pavement or exiting a parking garage.
The same thing happened in a previous test drive with the Stinger. This time around, the car was a GT Limited 20th Anniversary model with just 15,000 kilometres, making the noises even more puzzling.
Great Value
The 2020 Kia Stinger makes up for that lack of build quality with a base MSRP of just $44,995 and many desirable features that are optional on German competitors.
The top-line GT Limited adds adaptive front lighting, rain-sensing wipers, Nappa leather, heated/cooled front seats with additional power adjustments, heated rear seats, eight-inch touchscreen, 15-speaker premium sound system, compass, adaptive cruise control, head-up display, forward collision avoidance assist and lane keeping assist. At $50,495, it's a real bargain.
Ultimately, the main problem facing the Stinger is that people who buy German cars don't generally spend time in Kia showrooms while shopping. That's too bad.
We gave the keys to a friend of ours who owns a BMW and he was positively impressed with the Stinger's performance and dynamics. Enough to buy one for himself? No. Instead, he returned to his local BMW dealer and got an SUV equipped with an M package. One more proof that there's a long way to go to break the glass ceiling that separates "mainstream" cars and those from established luxury brands.
Test drive report
Test model

2020 Kia Stinger

Trim level
GT Limitée
Price range
$44,995 – $50,495
Price as tested
50 495 $
Warranty (basic)
5 years/100,000 km
Warranty (powertrain)
5 years/100,000 km
Fuel economy (city/highway/observed)
13,6 / 9,6 / 11,8 L/100km
Options
N/A
Competitive models
Acura TLX, Alfa Romeo Giulia, Audi A4, Audi A5, BMW 3 Series, BMW 4 Series, Buick Regal, Genesis G70, Infiniti Q50, Jaguar XE, Lexus IS, Mercedes-Benz C-Class, Tesla Model 3, Volvo S60
Strong points

Sexy as always
Pleasant, dynamic drive
Strong engine

Weak points

Lack of prestige
Cracking noises coming from the rear hatch

Editor's rating
Fuel economy
The Stinger likes to burn fuel in the city, but the combined number we got basically matched the official rating.
Comfort
The seats are comfortable even on long trips, while the ride is firm yet controlled.
Performance
The twin-turbo V6 delivers convincing acceleration and passing manoeuvres.
Infotainment
Some rivals have larger screens, but this one is a model of user-friendliness.
Driving
The Stinger is a treat to drive and has no reason to envy the Germans.
Overall
We loved the Stinger's performance and driving dynamics. This car deserves to sell more.