2021 Mazda CX-3: Downgraded to the Minor Leagues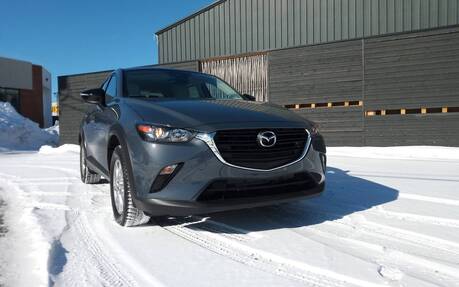 The Mazda CX-3 is arguably the least liked Mazda vehicle right now. In fact, it's one of the top 10 models people enjoy the least according to the latest Consumer Reports survey.
Also, consider the addition of the brand new CX-30, which is more attractive and better across the line, and it's no surprise Canadian sales of the CX-3 dropped 48.7 percent in 2020 (with a bit of help from the COVID-19 pandemic, of course).
We gave it another shot in recent weeks and came away underwhelmed. Here's why…
What's New for 2021?
The Mazda CX-3 has been around since 2016 and little has changed over the years. The AWD option has been dropped from the base GX model. Instead, you need to move up to the mid-level GS to get it, which is the model we tested.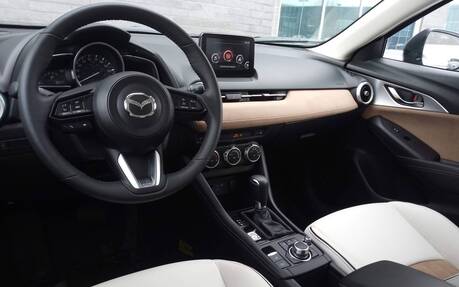 This one also offers a new Custom Appearance Package that includes leatherette upholstery with brown suede inserts on the front seats, dash and door panels (not the most handsome combination), unique 16-inch alloy wheels, black exterior mirrors and a black front grille design. Too bad there's no 100th Anniversary Edition to choose from similar to many other Mazda models.
Furthermore, Eternal Blue has been replaced by Polymetal Grey in the colour selection, while wireless Apple CarPlay is now available in top-line GT trim.
What We Liked…
While most people will agree that the CX-30 looks sharper, the CX-3 is still a cute little crossover. Inside, we could say some nice things about the layout and finish, as well, even six years into this first generation. The only exception is the instrument panel, which looks a bit dated and lacks information.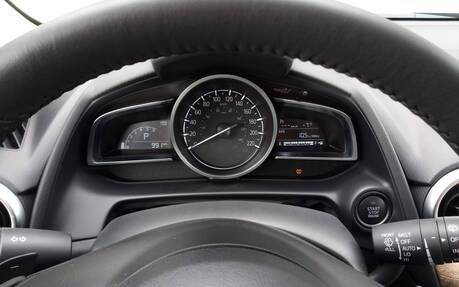 Despite its diminutive size, the CX-3 comes standard with many of the i-Activsense safety features offered by Mazda, including Smart City Brake Support, Advanced Blind Spot Monitoring, Rear Cross-Traffic Alert and a wide-angle rearview camera. The fully loaded CX-3 GT is even safer with Mazda Radar Cruise Control, Smart Brake Support Front, Lane Departure Warning, High Beam Control System, colour Active Driving Display and Traffic Sign Recognition. Oh, and one last update: pedestrian detection has been enhanced to work at night.
Incidentally, the 2021 Mazda CX-3 has been awarded the highest possible "Top Safety Pick+" rating following collision tests by the IIHS in the U.S.
On the road, the CX-3 continues to entertain drivers with sharp steering and nimble handling, plus a 2.0-litre engine that proves fairly responsive. Granted, the 148 horsepower won't blow you away, but it's right up there with the average competitors.
A manual transmission is once again available to go along with the automatic (both six-speed units). It's actually one of the main reasons why the 2021 CX-3 ranks among the top 5 most affordable SUVs/CUVs in Canada. And with a combined fuel consumption rating of 8.1 L/100 km per Natural Resources Canada, it's also one of the thriftiest.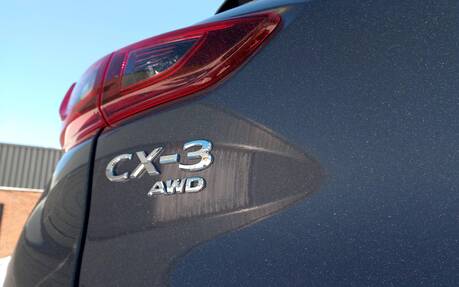 What We Didn't Like…
As mentioned at the start of this review, there are plenty of reasons not to like the Mazda CX-3, as well. Around town, acceleration from a standstill is sometimes jerky in the low gears. The ride can become stiff on rough pavement, while at higher speeds the engine proves loud and noise insulation isn't what we expect from a modern Mazda product. Ground clearance and visibility, though not that bad, are less generous than what many rivals offer.
We found the seats to lack comfort for long drives, while rear-seat space is pretty limited. Please, don't force anyone other than your own little kids to sit in the back for an extended period of time. With a 504-litre trunk (the second smallest in the segment after that of the Fiat 500X), the CX-3 is not a great option for families anyway. You'll be better served by a Mazda3 Sport hatchback.
Finally, there's Mazda's infotainment system. We've said it before, but it's definitely not a model for other companies to follow. The system is fairly slow to respond and requires long and frustrating manipulations in order to find or get what you want. Apple CarPlay and Android Auto are both offered, so that's a plus. And we appreciate that the seven-inch display doesn't look like a tablet designers threw in there at the last minute.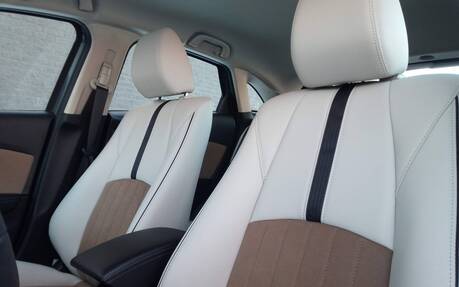 Should You Buy a CX-3 or Not?
The 2021 Mazda CX-3 has some nice attributes, but it can't be viewed in the same way as when it originally hit the market. That's because many newer, more competent and more sophisticated SUVs have joined the segment, led by the second-generation Subaru Crosstrek and the all-new Kia Seltos, not to mention the CX-30, of course. With a super-low MSRP starting at $21,300, the CX-3 is now more of an alternative to FWD-only models such as the Hyundai Venue, Nissan Kicks and Kia Soul.
The best buy you can make is a mid-level CX-3 GS AWD ($25,650), even though it lacks many features found in the top-line GT ($31,000). The latter, honestly, is too expensive.
We must also point out that the CX-3 no longer seems to fit in Mazda's brand strategy, which is to offer more premium and refined vehicles. You will enjoy the driving experience, sure, but soon enough you will have to make all kinds of sacrifices.
Test drive report
Test model

2021 Mazda CX-3

Trim level
GS TI
Price range
$21,300 – $31,100
Price as tested
CA$25,650
Warranty (basic)
3 years/unlimited
Warranty (powertrain)
5 years/unlimited
Fuel economy (city/highway/observed)
8.6 / 7.4 / 9.0 L/100km
Options
i-Activ AWD, Custom Appearance Package
Competitive models
2021 Toyota C-HR, 2021 Hyundai Venue, 2021 Nissan Kicks, 2021 Kia Soul, 2021 Honda HR-V
Strong points

Nimble handling
Good fuel economy
High level of safety

Weak points

Definite lack of space and comfort
Frustrating infotainment system
Aging product not on par with the latest Mazdas

Editor's rating
Fuel economy
On paper, it's one of the most fuel-efficient SUVs in the segment. Our winter test drive netted an average of 9.0 L/100 km.
Comfort
The front seats lack comfort and the rear bench is tight. Also, the ride can become stiff on rough pavement.
Performance
The 148-horsepower engine is fairly responsive and the transmission does a commendable job despite a few hiccups at low speeds.
Infotainment
Mazda's system causes too many distractions and frustrations. At least Apple CarPlay and Android Auto are included.
Driving
The CX-3 continues to entertain drivers with sharp steering and nimble handling.
Overall
It's still cute and fun to drive, but prepare to make all kinds of sacrifices on a day-to-day basis. Refinement is not on par with the latest Mazdas.