2022 Mercedes-Benz EQS : At the Wheel of a Luxurious and Technological Future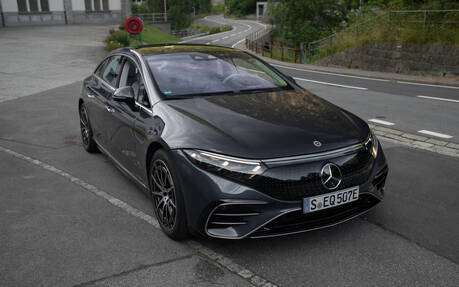 A new era is knocking on Mercedes-Benz's door as the company introduces its first electric model sold in North America, the EQS 580 4MATIC. Mercedes-Benz recently gave privileged access to this new Benz to select journalists. The Car Guide travelled to Zurich, Switzerland, to get a first look (and drive!) at this new luxury electric sedan.
The EQS is very important to Mercedes. The model directly addresses the luxury electric sedan segment, which Tesla pioneered with its Model S. Expectations in terms of quality are therefore exceptionally high and there is no room for error.
Carefully Calculated Aerodynamics
With a new architecture and innovative styling, the EQS instantly sets itself apart from other Mercedes models. Great effort have been devoted to style and aerodynamics in order to produce a drag coefficient of only 0.20, allowing the EQS to win the title of the most aerodynamic production car in the world. For comparison, a Porsche Taycan Turbo S boasts a drag coefficient of 0.25.
It's important to mention that successful aerodynamics not only affect performance, but battery life as well. The drag coefficient of the EQS combined with two electric motors (a total power of 516 horsepower and a maximum torque of 631 lb-ft) allows the vehicle weighing 2,585 kilos to speed from zero to 100 km/h in only 4,3 seconds.
Gliding The Road
The EQS is quite heavy, but its handling capabilities and overall agility are not affected in any way by this weight. The accelerations provided by the EQS 580 are exhilarating.. In fact, Switzerland's narrow, mountainous roads were a perfect playground to put it to the test!
The last generation of the Mercedes S-Classe pampered the rear passengers in every way possible. After all, many people get an S-Class to be comfortably seated behind, while their driver takes them to their destination! But over the years, Mercedes has been able to bring back the pleasure of being behind the wheel of the vehicle. And the EQS transports its driver with confidence, and without too many compromises on enjoyment.
Thanks to the driver assistance system as well as the Veoneer and StereoVision radar system, it is now even easier and more relaxing to drive a Mercedes. In Sport mode, the car grips the curves thanks to a firmer suspension as well as rear wheel steering that can pivot up to 4.5 degrees. EQS owners will also be able to purchase an update that allows the rear wheels to rotate up to 10 degrees. Perhaps an AMG version of the EQS will see the light of day, but in the meantime, the EQS 580 (the only version offered in Canada) boasts accomplished performance characteristics, while still remaining luxurious.
Range and Charging
The EQS has a 107.8 kWh battery and can cover a distance of about 680 km according to European WLTP standards, standards - which are very generous compared to ours. This should give a real range of around 550 kilometres, but official North American figures have not yet been released.
In Europe, the EQS 450+ model offers less performance but more range. It can travel up to 780 km on one full charge, still according to WLTP standards. During our test, we traveled about 400 km, which is more than enough on a single charge. Keep in mind that variations in climate and temperature affect battery life. With a 200 kW charging station, the EQS 580 recovered 300 km of autonomy in more or less 15 minutes.
EQS models are equipped with a standard 9.6 kWh charger, allowing a complete recharge in 10 hours on a level 2 charger.
A Futuristic Interior
Mercedes-Benz is renowned for the quality of its cars and the comfort they provide. The EQS 580 provides the same comfort as top-of-the-range Mercedes-Benz models, and the overall driving experience is enhanced by this refinement. However, in some recent Mercedes models, the quality of the plastic on the front console and around the air vents is questionable. In fact, in these same models, it is a little embarrassing to feel the ever-creaking plastic panels... but these have (thankfully) not made it in the EQS. The leather covering the dashboard is of the highest quality and the lighting is simply amazing: LED strips run through the interior of the vehicle. Driving the EQS 580 4Matic at dusk will give the driver a spaceship-like experience.
There is also a central panel named Hyperscreen, which includes three large screens. Those in front of the driver and passenger measure 12.3 inches diagonally, while the centre screen is 17.7 inches. The screen controls are very clear and allow quick operation. The navigation system, which also reflects the directions of the route directly on the windshield, works very well too. On a few occasions, however, the touchscreen system did not respond to our commands, which slightly impacted the driving experience.
Despite these minor annoyances, the Mercedes EQS 580 4MATIC is a fantastic car. It encompasses the best of Mercedes-Benz, especially if comfort and driving experience are your top priorities, with a delicate ride and pleasant dynamics. The Hyperscreen's infotainment system is excellent, but could use some refinement.
No official pricing has been released yet, but we expect a pretty steep fare that should be close to $ 200,000. Mercedes will have taken a long time to offer the world a first electric car, but we can confidently say that the manufacturer is doing it in a big way!
Test drive report
Test model

2022 Mercedes-Benz EQS

Trim level
580 4MATIC
Price range
$200,000
Price as tested
200 000 $
Warranty (basic)
4 years/80,000 km
Warranty (powertrain)
4 years/80,000 km
Fuel economy (city/highway/observed)
N/A
Options
N/A
Competitive models
Audi e-tron GT, Karma Revero, Porsche Taycan, Tesla Model S
Strong points

Refined driving experience
Exceptional comfort
Great range
Great soundproofing for a quiet ride

Weak points

Steep price
Unknown reliability
Fussy Hyperscreen

Editor's rating
Fuel economy
This fully-electric car offers 500 kilometres of range.
Comfort
It's like a living room... on four wheels!
Performance
The EQS 580 delivers 516 horsepower.
Infotainment
The Hyperscreen is impressive, but not flawless.
Driving
It's like floating on a cloud.
Overall
Impressive (and expensive) vehicle.