Bystanders Cheer as Speeding BC Driver Gets Fined, Towed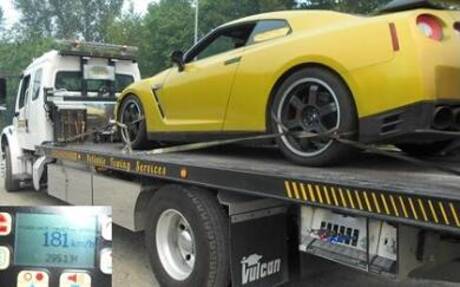 Receiving a heavy fine and getting your car towed is never a good experience – especially when it happens in front of an audience. Last week, the spectacle was a satisfying one for a few motorists who had witnessed the dangerous driving and manoeuvres of one speeding B.C. driver. The owner of a yellow Nissan GT-R was pulled over in Fraser Valley at a speed of 181 km/h.
B.C. Highway Patrol says the driver was travelling west at high speeds on Highway 1 near Popkum where an RCMP officer was conducting a radar operation in this 100 kilometres per hour zone. The officer fined the GT-R driver $483 for excessive speed and $368 for driving without due care. These tickets also came with a total of nine driver penalty points.
The driver will also have to wait seven days before he can get back at the wheel of his high-performance Nissan again, because the vehicle was immediately impounded for seven days.
Motorists and bystanders who were driving by during the event were, according to the police, quite reassured that the driver had been caught.
"While (the officer) was roadside with the vehicle, numerous motorists drove past and honked their horns and gave the officer a thumbs up, which is generally a good indication that the driver of the offending vehicle had upset other drivers," the RCMP said in the release.
"One driver stopped to report that he had called 911 on the offending vehicle due to the manner in which it was being driven, and even provided his dashboard camera video as evidence," police added.
"The actions of this driver, had he not been stopped, may have resulted in a serious crash involving innocent motorists," police said.
#UpperFraserValley - Motorists thank BCHP by honking horns! https://t.co/9jOrCK5Fm4 pic.twitter.com/QPLwJVrxrc

— BCRCMP (@BCRCMP) August 18, 2021