2022 Honda Civic Hatchback Gets Attractive New Entry Price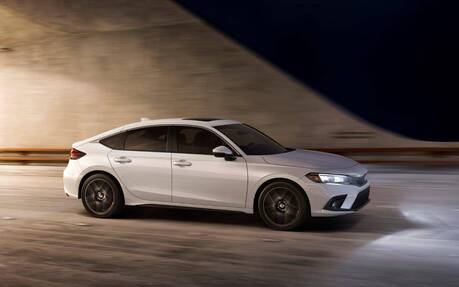 The completely redesigned 2022 Honda Civic Hatchback will arrive at Honda dealerships across Canada on October 1 and today we have pricing details for the various models in the lineup.
The good news is that the second-generation hatchback is more affordable than the first, at least when you look at the base price.
From $30,400 in 2021, Honda will now sell the Civic Hatchback at just $28,000 (excluding $1,700 destination charge). Why? The main reason is the addition of an entry-level LX model featuring a naturally aspirated 2.0-litre four-cylinder engine. Similar to the Civic Sedan, it generates 158 horsepower and 138 pound-feet of torque.
Unlike the four-door model, however, the continuously variable automatic transmission—with new Sport driving mode—can be replaced by a six-speed manual transmission. The price is the same, and that goes for whichever model you select.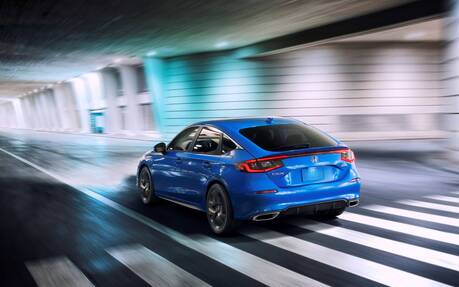 The base Civic Hatchback LX also features a seven-inch colour touchscreen with Apple CarPlay and Android Auto integration, push-button start, partial digital instrumentation and LED headlights. By the way, cargo space is just shy of 700 litres.
Next up is the Civic Hatchback Sport starting at $31,500, an increase of $1,100 from 2021. This one gets a turbocharged 1.5-litre four-cylinder engine that produces 180 horsepower and 177 pound-feet of torque. Gloss Berlina Black 18-inch wheels are included along with low-profile tires, black exterior accents and a dual chrome exhaust finisher.
Inside, Sport-specific seating surfaces, an eight--speaker audio system, leather-wrapped shift knob, heated steering wheel and sport pedals are part of the package.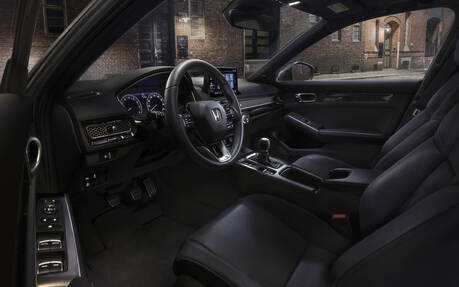 Finally, the top-line 2022 Civic Hatchback Sport Touring (starting at $35,000) stands out with machine-finished 18-inch alloy wheels, front and rear parking sensors, Low Speed Braking Control and Rear Cross-Traffic Alert. Behind the leather-wrapped, heated steering wheel is an all-digital and customizable 10.2-inch instrument display, while the new nine-inch colour touchscreen comes with wireless Apple CarPlay and Android Auto, plus a powerful Bose premium audio system.
"The Civic Hatchback is the most fun-to-drive five-door Civic we've ever produced," says Steve Hui, assistant vice president at Honda Canada. "Its sleek, fastback design and available six-speed manual transmission make it another exciting offering in the new Civic family, with the Si and Type R to come."
Keep following The Car Guide in the next few weeks to get all the details about the new Civic Si, which will be available in four-door body style exclusively.
Watch: 2022 Honda Civic Sedan is Officially Revealed