2022 Honda Civic: Back on Top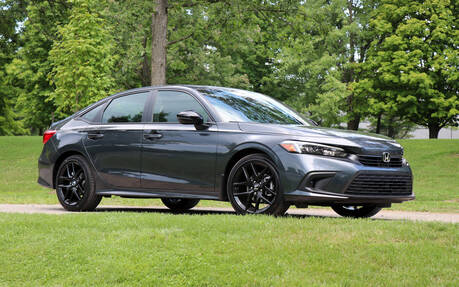 Honda was forced to alter its plans considerably in the past 18 months, much like every other automaker. The difference is that its two best-selling products, the CR-V and Civic, are built right here in Canada, with the latter introducing a brand new generation for 2022.
The outgoing model was six years old while the typical lifecycle of a modern car is 4-5 years, with a mid-cycle refresh after 2-3 years. It hit the market in the summer of 2015 and lasted right until this summer despite getting no significant updates. Buyers and lessees were eagerly awaiting a new Civic to replace the one they had, which was starting to show some serious signs of age.
Honda won't admit it, but they were clearly hoping to launch the 11th generation in late 2020 as a 2021 model. That didn't work out, although the actual 2021 Civic did set the table for what we have now: no more base DX trim and no more manual gearbox, at least as far as the sedan is concerned. The sporty Civic Si also took a year off and will soon return with a fresh look.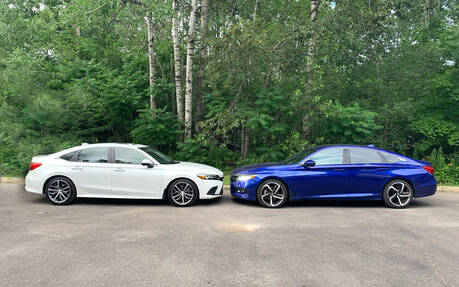 Combined with the discontinuation of the Fit in North America, Honda's cheapest vehicle at the moment is the 2022 Civic Sedan starting at $24,465 in LX trim plus $1,700 destination charges. That's roughly $1,500 below the HR-V small SUV, but nearly $9,000 above the 2020 Fit and $7,000 above the base 2021 Civic DX.
Fresh yet Conservative
Obviously, the 2022 Honda Civic could have been more innovative and attractive in terms of design. It looks more modern, for sure, but it lacks the sexiness of a Mazda3 or the boldness of a Hyundai Elantra. That being said, the new Civic will likely age better than its predecessor, which featured radically styled headlights and taillights, fake diffusers and too many questionable lines.
Available in four trim levels, the sedan is fairly conservative except for the Sport model which, for the first time, replaces chrome accents with a black finish on the mirror caps, window line and 18-inch wheels. The result is pretty nice.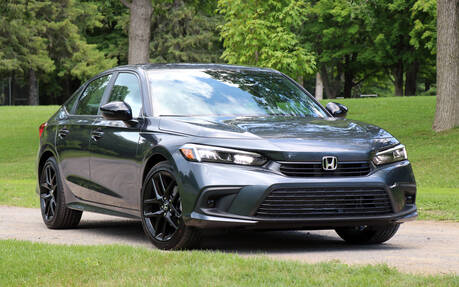 The recently unveiled 2022 Civic Hatchback (now to be built in the U.S.) is way more stylish, especially when viewed from the rear, which bodes well for the future Type R. It will reach Canadian showrooms in September, Honda said, and pricing should be more competitive this time around.
What Else is New?
Don't let the timid exterior fool you: the 2022 Honda Civic is profoundly improved starting with an 8-percent improvement in torsional rigidity and 13-percent improvement in bending rigidity versus the previous generation. The wheelbase is 35 millimetres longer for a more comfortable ride, while the upgraded suspension contributes to reduced vibration and harshness along with increased stability (helped by a wider rear track).
The Civic now feels sharper and more surefooted, making the driving experience more pleasant. Safety and handling are improved, as well, something many customers will appreciate. Extra noise insulation makes the cabin quieter. Overall, the level of comfort and refinement is almost on par with the larger Accord.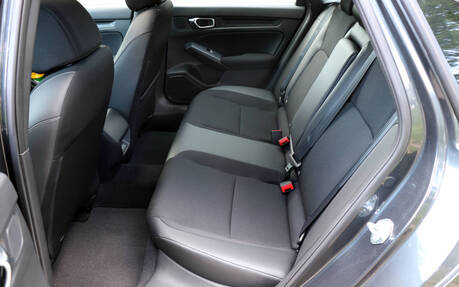 Our tester was a top-line Civic Touring, the only model to feature the turbocharged 1.5-litre engine. Output is up from 174 to 180 horsepower for 2022, which is good, but it doesn't turn the Civic into a sports sedan. For that, you'll have to wait for the new Civic Si. As previously mentioned, the only available transmission now is a CVT. Revised Step-Shift programming simulates physical gear changes under hard acceleration and improves fuel economy. Speaking of which, expect to achieve about 7 L/100 km no matter which engine you choose.
We still don't know for sure if Honda has permanently fixed some of the problems that plagued the 1.5T engine a few years ago, when owners reported cases of oil mixing with fuel and complained about poor heating performance in winter. Hyundai/Kia arguably have bigger issues when it comes to their own powertrains, but for an engine specialist like Honda this is disappointing.
By the way, the naturally aspirated 2.0-litre mill found in the three other Civic models has proven to be reliable, efficient and balanced. For 2022, it gains auto stop/start, and while output is unchanged at 158 horsepower, most drivers will continue to be well served by this lesser option. Plus, it sounds more like a Honda than the turbo.
No Hybrid?
The Honda Insight (based on the previous Civic) is still around, but you wouldn't know it since the company makes no effort to promote it. You see, this hybrid sedan is manufactured in Japan and therefore much more expensive to import to Canada than a locally built Civic that creates jobs for Canadians. In all of last year, Honda Canada sold just 415 Insights versus 42,996 Civics.
Does Honda have any plans to replace the Insight with a Canadian-made Civic Hybrid at some point? That would be great, especially with the Elantra and Toyota Corolla now offering gas-electric variants. Honda's electrification strategy for North America has been announced, but beyond the two future SUVs developed with GM we have yet to find specific details.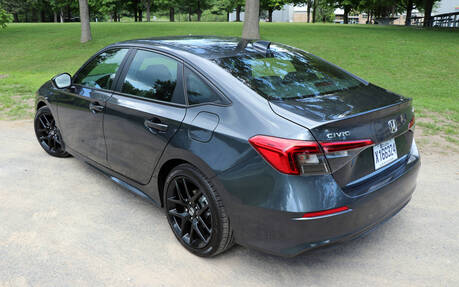 Listening to Customers
One of the biggest complaints about the previous Civic was a low seat height combined with a perceived lack of interior space. Engineers therefore modified the angle of the windshield and made the A-pillars slimmer while repositioning the front seats. The new cabin feels airier and more spacious, with improved visibility on top of that. The driving position and overall ergonomics are better, too. We love the revised steering wheel, easy-to-read instrument panel and crisper infotainment graphics. In addition, the dashboard design is cleaner than before and incorporates a striking metal honeycomb mesh accent from door to door that niftily conceals the air vents.
You'll now find wireless Apple CarPlay and Android Auto in the Civic Touring as well as a standard heated steering wheel in all models except the base LX. The top-line trim also gets a nine-inch centre display (versus seven inches) and a Civic-first 12-speaker Bose sound system. The interior may not be as classy or sophisticated as the Mazda3's, but the evolution in styling, comfort and technology will make Civic customers forget that they're sitting in a compact car. The only thing missing are ventilated seats, which both Korean rivals offer.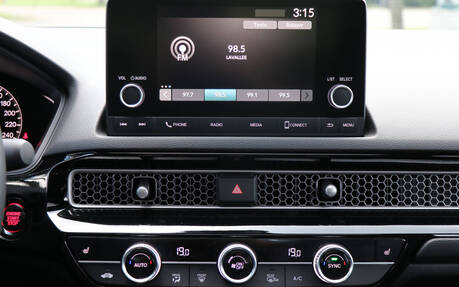 Our Verdict
At the end of the day, the Honda Civic is back as the cream of the crop. Most irritants on the previous model are gone, the car is much more pleasant to drive and value remains excellent despite above-average pricing. It will only get better with the upcoming Civic Hatchback and performance variants. The aforementioned Elantra and Corolla are dangerously close to stealing its Canadian sales crown, however. 
Test drive report
Test model

2022 Honda Civic

Trim level
Sport Berline
Price range
$24,465 – $30,265
Price as tested
CA$27,865
Warranty (basic)
3 years/60,000 km
Warranty (powertrain)
5 years/100,000 km
Fuel economy (city/highway/observed)
7.8 / 6.3 / 6.8 L/100km
Options
N/A
Competitive models
2021 Hyundai Elantra, 2021 Kia Forte, 2021 Mazda Mazda3, 2021 Nissan Sentra, 2021 Subaru Impreza, 2021 Toyota Corolla
Strong points

Much more comfortable and quieter now
Great fuel economy
More pleasant driving dynamics
Significantly updated content

Weak points

Increased price
No more manual gearbox (Sedan)
No hybrid variant yet

Editor's rating
Fuel economy
The new Civic is more efficient than the average competitor.
Comfort
New seats and extra noise insulation significantly improve comfort.
Performance
Acceleration is no better than before, but on-road performance is superior.
Infotainment
The interface is vastly improved thanks to a more user-friendly system and sharper graphics.
Driving
We prefer the Mazda3, but the Civic's driving dynamics are improved.
Overall
The Civic is once again back on top even though it doesn't reinvent anything.