Volvo Canada and Casca Team Up to Make Shoes Using Old Tires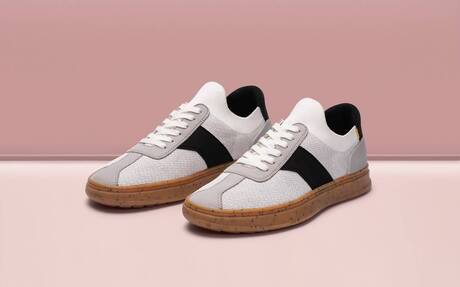 An association between a car manufacturer and World Car Free Day is always a bit… special. But Volvo seems to be out there for the long run with a carbon-neutral future and wants you to know it.
Volvo Cars Canada last week announced that it has teamed up with Vancouver-based Casca footwear to launch a limited-edition sneaker inspired by the Volvo XC40 Recharge on World Car Free Day this coming Wednesday.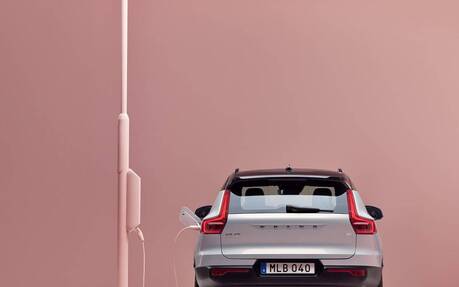 "We're excited to team up with Casca footwear who share similar values and combine our passions for sustainability, technology, and understated modern design," said Matt Girgis, managing director of Volvo Car Canada Ltd. "At Volvo Cars, we are committed to setting the highest standards of sustainability in mobility and that goes beyond electrifying our fleet to transforming all aspects of our business. The shoe we have created with Casca in celebration of World Car Free Day, is one way to recognize the many steps we are taking on our journey to climate neutrality."
Volvo Canada and Casca claim that 10% of the sole of the new shoe comes from recycled car tires. This is the first time this material has ever been used in a Casca shoe. Also, the body of the shoe contains no less than seven recycled plastic bottles.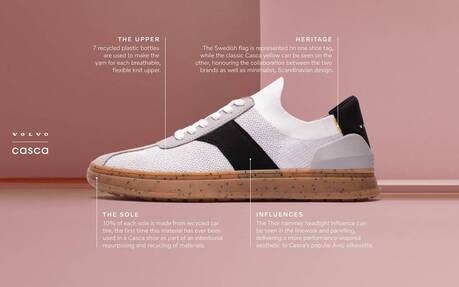 The footwear has been branded with the Volvo logo at the rear, as well as the signature Swedish flag you will typically find on your Volvo's upholstery.
"We know that being advanced isn't just about great design and technology, it means implementing ethical and sustainable practices," said Braden Parker, CEO and Co-Founder, Casca. "This is just one of many similarities we see between our brand and Volvo Cars, we both want to create something with intention that lasts."