2022 Subaru Forester Wilderness: Your Tough, Winter-Ready SUV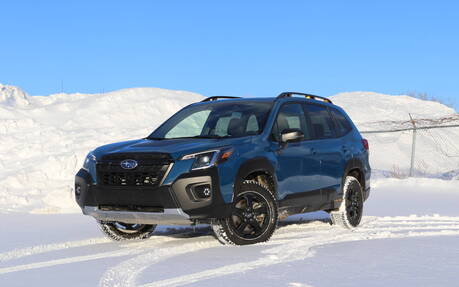 Subaru's new Wilderness models are taking the spotlight as more rugged and more adventurous variants of popular products. As fate or Mother Nature would have it, we were handed the keys to a 2022 Forester Wilderness during the worst week of February, weather wise.
There was a lot of snow followed by warmer temperatures and then some freezing rain, with more snow to finish the week. Think that would stop us? Heck no. We accepted the challenge and braved the elements—and man, this special new Forester did not disappoint.
Plastic Cladding and Beefier Tires
Subaru has made a few changes to its compact SUV for 2022. It takes a keen eye to spot them, but upon closer inspection you'll notice that the headlights and front fascia are slightly redesigned.
In Wilderness trim, the Forester adds a unique grille, black plastic cladding on the lower body and wheel arches, a raised suspension, rugged-looking 17-inch wheels mounted on all-terrain tires, front and rear skid plates, unique LED fog lights and a matte black hood decal. Pretty much the same stuff you get with the Outback Wilderness introduced a bit earlier.
There are several body colours to choose from. Black or grey gives the vehicle a more subtle look, but green or blue (as tested) makes it stand out much further from other models in the lineup. Speaking of which, the Wilderness slots in the top half with a base MSRP of $38,995. That's $300 below the Limited and $1,600 below the fully loaded Premier.
Who Cares About Snow?
Despite Environment Canada warning drivers against the slippery roads most of the week, we didn't hesitate to take the Forester out for a spin because we knew it would be up to the task.
The grippy winter tires, exceptional AWD system and safe handling dynamics combined to make us feel completely in control of the situation. For parking manoeuvres, it only took a slightly more direct jab at the throttle to get in or out of a snow-covered or icy parking space.
Even a steep driveway was no problem for the Forester Wilderness, and shoveling wasn't necessary. The only time we had to do something to help the vehicle was when freezing rain fell overnight followed by a bit of snow in the morning. The sheer lack of traction combined with the angle of the driveway was simply too much to overcome.
This is a machine that proves surefooted and inspires confidence in any season, mind you. Also, the smooth ride is ideal for poorly maintained roads, and the large windows provide excellent visibility all around, which is rare nowadays. Sure, the beefy tires on the Wilderness are a tad louder than the stock ones, especially on the highway, but it's definitely not a deal-breaker.
The only engine available is a naturally aspirated 2.5-litre four-cylinder that delivers 182 horsepower and 176 pound-feet of torque. It is mated to a continuously variable Lineartronic transmission and Subaru's symmetrical all-wheel drive system.
Overall, performance is decent but nothing to write your mother about. Fuel consumption is officially rated at a combined 9 L/100 km, which is on par with the average non-hybrid compact SUV. On our watch, the Forester Wilderness achieved 12.4 L/100 km due to the cold temperatures and significant amount of snow on the road. Also, half of our trips took place around town.
It's too bad that Subaru doesn't offer alternative engine options including hybrid variants like the Toyota RAV4, Hyundai Tucson and others. Considering how steep gas prices have gotten, many potential customers would be interested, for sure.
Spacious and Practical
The Subaru Forester does stand out from the competition with a spacious interior, exceptional visibility and a large cargo area that expands from 762 litres to 1,957 litres when you fold the rear seats down.
Fit and finish is adequate despite some hard plastics in many areas. The controls are logically positioned and the most important ones (HVAC system, heated seats, etc.) don't force you to go through the on-screen menus. Technology is big for a number of people, but physical buttons will always prove safer and more convenient to use while driving.
At the end of the day, the 2022 Subaru Forester Wilderness might be the best all-around, all-weather SUV for small families. Canadian winters and roads can be rough, but this smooth sailor will confidently take you everywhere you want to go.
Test drive report
Test model

2022 Subaru Forester

Trim level
Wilderness
Price range
$29,495 – $40,595
Price as tested
CA$38,995
Warranty (basic)
3 years/60,000 km
Warranty (powertrain)
5 years/100,000 km
Fuel economy (city/highway/observed)
9.5 / 8.3 / 12.4 L/100km
Options
N/A
Competitive models
2022 Chevrolet Equinox, 2022 Ford Escape, 2022 GMC Terrain, 2022 Honda CR-V, 2022 Hyundai Tucson, 2023 Kia Sportage, 2022 Jeep Cherokee, 2022 Mitsubishi Outlander, 2022 Nissan Rogue, 2022 Mazda CX-5, 2022 Volkswagen Tiguan, 2022 Toyota RAV4
Strong points

Smooth ride
Pleasant handling, excellent AWD
Spacious interior with great visibility
Awesome in winter

Weak points

A bit louder than other Forester models
Only one engine option, no hybrid

Editor's rating
Fuel economy
Fuel economy is good but not among the best.
Comfort
The suspension on the Forester Wilderness is beautifully suited to Canadian roads.
Performance
Performance is decent at best.
Infotainment
Subaru's interface works great and proves intuitive.
Driving
While a bit louder at highway speeds than other Foresters, the Wilderness is pleasant to drive especially in winter.
Overall
Still one of the best compact SUVs out there. The Forester's smooth ride and excellent AWD system are a winning combination in Canada.