2022 Mercedes-Benz C 300 4MATIC: Comfort and Luxury Above All Else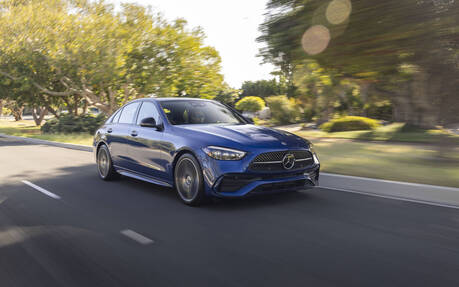 SUVs now represent 74 percent of Mercedes-Benz sales in Canada, and the decline of sedans, coupes and convertibles has forced the company to eliminate certain models.
The C-Class is still a key product for Mercedes-Benz. In fact, it will share its architecture with the redesigned GLC to be revealed on June 1. Globally, over 2.5 million C-Class cars have found a home in the past decade, which is enough to keep the folks in Stuttgart happy and smiling.
More Power
The new 2022 C-Class is 6.5 cm longer with 2.5 cm of extra wheelbase, while styling is influenced by the larger E-Class and S-Class. It looks sharper and more dynamic than its predecessor, especially with new character lines on the hood hinting at the increased power underneath.
Speaking of which, the C 300 4MATIC gets a newly developed, turbocharged 2.0-litre four-cylinder engine that produces 255 horsepower (unchanged from the previous model) and 295 pound-feet of torque (up from 273). An integrated 48V mild hybrid system allows functions such as gliding, boosting or energy recovery, while providing an additional 20 horsepower and 147 pound-feet of torque in certain situations.
What's more, a special boost function serves up another 27 horsepower for 30 seconds. No need to push a button—all you have to do is press the throttle and those 255 ponies will turn into 302.
While driving on the roads of the Hudson Valley in the state of New York, I occasionally took advantage of the full power delivered by the C 300 4MATIC and realized that passing manoeuvres are now more immediate and therefore safer than in the past.
Just like any turbocharged engine, mid-range torque is strong, and the contribution of the mild hybrid system is really appreciated as it makes acceleration more responsive. However, it's definitely not as smooth and pleasant to the ear as a straight-six. We'd better get used to it, though, as turbo-four engines with mild hybrid tech will continue to spread among conventionally powered automobiles.
To Mercedes' defense, the new mill keeps a fairly low profile most of the time as the automatic transmission efficiently handles gear shifts. We achieved a combined 9.2 L/100 km in a mix of city and highway driving. For the record, the official ratings are 9.9 L/100 km and 7.1 L/100 km, respectively.
As for driving dynamics, the new C-Class is clearly more about comfort than sporty handling, although steering is finely tuned and quite precise to work with. This is a compact sedan that doesn't mind attacking corners with speed, but the amount of body roll—as beautifully controlled as it may be—tells you it would rather play it smooth.
Inspired by the S-Class
The highlight inside the 2022 Mercedes-Benz C 300 4MATIC is arguably the second-generation MBUX infotainment system derived from the S-Class. The wide, high-resolution display behind the steering wheel (10.25 or 12.3 inches, depending on the customer's choice) boasts super-sharp and modern graphics, while the portrait-style HD touchscreen in the middle (11.9 inches) is readily accessible and slightly tilted towards the driver.
With available Augmented Video technology, a camera registers the surroundings in front of the vehicle and the moving images are shown on the centre display. In addition, virtual objects, information and markers such as traffic signs and directional arrows are superimposed on the video image.
Our tester also had the optional head-up display, which makes you see a virtual image measuring 29.5 inches and floating above the hood at a distance of about 4.5 metres. With so much information, missing a turn is next to impossible—unless you're distracted by the high-quality materials that make up the cabin or just too relaxed in the superbly comfortable driver's seat.
Pricing for the 2022 Mercedes-Benz C 300 4MATIC starts at $56,700. With three packages tacked on, ours cost $66,200. The car goes on sale in June and will be followed by the 402-horsepower 2023 Mercedes-AMG C 43 in the fourth quarter. Logically, the AMG C 63 should arrive sometime in 2023. A plug-in hybrid variant has been ruled out in Canada for now, but that could change.  
Overall, the new C-Class is largely inspired by the latest S-Class and the first-ever EQS electric sedan. Comfort is fantastic and luxury is everywhere, but handling is not on the same level as the BMW 3 Series or even the Genesis G70. It's a Mercedes-Benz through and through, except for the lack of smoothness and refinement from the turbocharged four-cylinder.
Test drive report
Test model

2022 Mercedes-Benz C-Class

Trim level
300 4MATIC Berline
Price range
$56,700 – $77,500
Price as tested
66 200 $
Warranty (basic)
4 years/80,000 km
Warranty (powertrain)
4 years/80,000 km
Fuel economy (city/highway/observed)
9,9 / 7,1 / 9,2 L/100km
Options
Premium Pack ($3,200), Premium Plus Pack ($3,400), Night Pack ($2,900)
Competitive models
2022 Acura TLX, 2022 Audi A4, 2022 Cadillac CT5, 2022 Genesis G70, 2022 Infiniti Q50, 2022 Lexus IS, 2022 Tesla Model 3, 2022 Volvo S60
Strong points

Strong and competent engine
Sharp and advanced MBUX system
Comfort and luxury at the forefront
Standard AWD

Weak points

High price (as tested)
Not as agile as a 3 Series or G70
Engine is loud under hard acceleration

Editor's rating
Fuel economy
The C 300 should prove reasonably efficient in normal driving.
Comfort
Comfort levels are high, except under hard acceleration.
Performance
The turbo-four engine is spirited and competent.
Infotainment
Love the MBUX system and large screen. Apple CarPlay and Android Auto are included.
Driving
Not the most dynamic or agile sedan in the segment.
Overall
The new C-Class is a Mercedes-Benz through and through, with a focus on comfort and luxury.