2022 Tesla
Model 3

RWD: Rivals Are Closer Than They Appear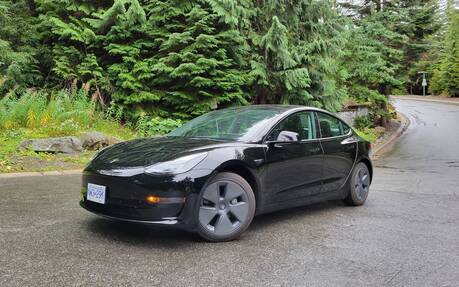 The Tesla Model 3 is the best-selling EV in Canada. What was meant to be Tesla's long-awaited affordable EV and was originally introduced with an enticing starting price, quickly became a $60,000+ car –without any significant design changes and still dragging annoying assembly issues. And as the rest of the automakers gets in gear to conquer the EV world - and to snatch every available government incentive on the way, the Tesla Model 3, although it is very technologically advanced, seems to be losing ground in terms of value.
Despite these shortcomings, the Model 3 encompasses countless groundbreaking technologies and a new lithium iron phosphate (LFP) battery, and delivers more than sufficient performance levels.
The peer-to-peer car sharing app Turo, which is a good source for quirky vehicle rentals as well as electric ones for long or short-term rentals, allowed us to find a base rear-wheel drive Tesla Model 3 and ventured on British Columbia's Sea-to-Sky Highway to see what this product had changed throughout the years and how it delivers when compared to the competition.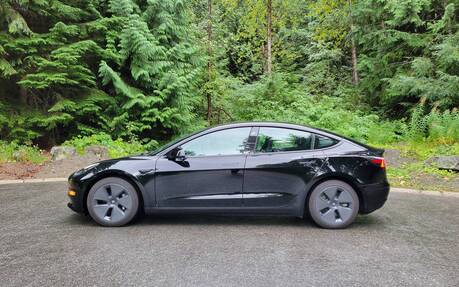 Classic Looks, Sturdy performance
Although the Tesla Model 3 aesthetics have barely changed since its introduction, it's overall looks are subjectively still valid, especially for those who want to not make a big appearance. But the looks still hide some assembly defects with some misaligned panels and chipping paint.
One of the aerodynamic features at Tesla are the flush door handles. And those handles, well, they will never do the work in the winter, where driving an EV can become nightmarish enough. Even more, some manufacturers are copying Tesla.
In terms of performance, you'll find that the RWD Tesla Model 3 delivers plenty of no-nonsense power to the rear wheels. In terms of cornering, it also distinguishes itself from other base models in the segment, offering a better overall dynamic. Although the ride comfort can become choppy on rough pavement, the Tesla 3 can be surprisingly fun to drive.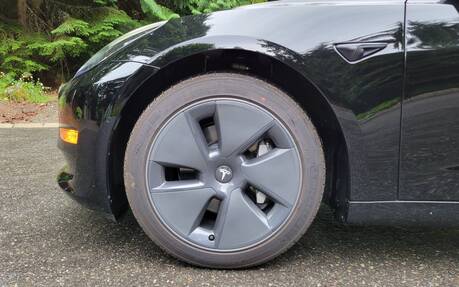 But if you live anywhere where there is snow (which is inevitable Canada) the RWD configuration will give you a hard time. This is where the base Tesla loses the most ground over the competition, where FWD base models are more adapted to winter, and considerably cheaper.
Simple Comfort, Complicated Screen
Inside, the Tesla Model 3 is as simplistic as it gets. Tesla has basically invented the screen-dominated cabin – one of the industry's heaviest trends. It's hard for Apple users to adapt to an Android interface and the other way around. The interface in the Model 3 is probably more friendly to Apple users. But forget about Apple CarPlay or Android Auto integration.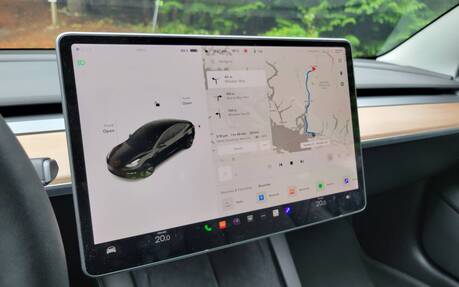 Although the screen is large and clear, it's not always useful. Finding simple commands can quickly become an endeavour. The navigation part of this system can be confusing at times, more specifically when it comes to traffic information.
This awful navigation system does have its good sides. For example, put in a Tesla Supercharger as a destination, and the preconditioning system will get to work and prepare the battery temperature for optimal charging. This becomes important to pull the maximum charging capacity – especially during winter.
The Supercharger network is spreading fast. And now that you can charge your Tesla with a 340 $ adapter on any other charger with CCS capability, owning a Tesla is now more practical than ever in terms of charging.
Fit and finish inside the Model 3 might not be top-notch, even if minimalistic is the word here. However, seating is impressively comfortable for every passenger. Owners have reported rattling over time, even on sub 20k mile units, that's something to look out for because the Model 3's interior hasn't really changed - just like the exterior.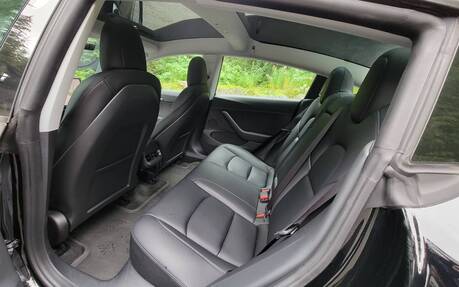 The Model 3's affordability utopia got lost along the way to success.  But the numbers don't lie; this EV isn't losing ground in terms of popularity - a popularity that is strongly driven by its influential current owners on the road.
The Model 3's base price is now above $60,000 and shows no sign of coming down. Tesla's solution will be to introduce another, cheaper model – hence further downgrading the value of the already limited Model 3 against the cheaper, winter-adapted, front-wheel drive Chevrolet Bolt, the roomier (and also cheaper) IONIQ 5 and sportier Kia EV6.
(EDIT 01/13/2022: About a month after publishing this review, Tesla slashed the Model 3's price by more than $5,000. In subsequent weeks, many manufacturers with competing vehicles have done the same)
Video: Hyundai IONIQ 5 Images
Test drive report
Test model

2022 Tesla Model 3

Trim level
Standard Range Plus (RWD)
Price range
$59,990 – $82,000
Price as tested
59 990 $
Warranty (basic)
4 years/80,000 km
Warranty (powertrain)
8 years/160,000 km
Fuel economy (city/highway/observed)
N/A
Options
N/A
Competitive models
Audi A4, BMW 3 Series, Genesis G70, Hyundai IONIQ 5, Hyundai Kona, Kia Niro, Kia Soul, Mercedes-Benz C-Class, Nissan LEAF, Polestar 2
Strong points

Impressive driving dynamics
Advanced technologies

Weak points

How did it get so expensive?
Navigation system needs improvement
Fit and finish is hit or miss

Editor's rating
Fuel economy
N/A Not evaluated
Comfort
We have to give it to the Tesla seats; they are super comfortable!
Performance
The Tesla Model 3 is a better performer than the majority of its rivals
Infotainment
Big screen, little logic. Especially for the navigation. And Apple CarPlay/Android Auto can't come to the rescue
Driving
Good overall experience with precise handling
Overall
The Tesla Model 3 is a cool, high-tech machine. But it's lagging behind in terms of design. And with misaligned door panels, chipping paint and rattles in the cabin after a few thousand kilometres; it's difficult to justify a starting price of $60,000