Sony Honda Mobility Unveils New AFEELA EV Concept at CES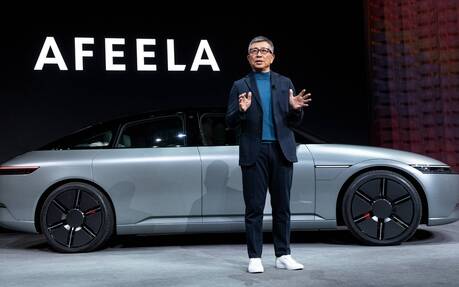 Last year's announcement of a joint venture between Sony and Honda now has a new face following the debut of an electric sedan concept at CES (Consumer Electronics Show) in Las Vegas.
A production model will launch in North America under a new brand called AFEELA in the spring of 2026. Pre-orders will start in the first half of 2025, while production will begin later that year at one of Honda's freshly upgraded plants in Ohio.
Sony Honda Mobility (SHM) says AFEELA expresses an interactive relationship where people "FEEL" mobility as an intelligent entity, and mobility "FEELs" people using sensing and network IT technologies.
Déjà Vu
The car you see here will probably look familiar to you. It's an evolution of the Sony Vision-S concept that was shown at CES three years ago. At 4,895 mm long, 1,900 mm wide and 1,460 mm tall, it's roughly the same size as the Honda Accord, except with a longer wheelbase and a radically different appearance.
The exterior design indeed focuses on clean and aerodynamic surfaces. One feature that stands out is the so-called "Media Bar" up front, which enables interactive communication between the AFEELA and pedestrians or other vehicles.
The interior is nearly identical to that of the Vision-S, including the digital interface that stretches from pillar to pillar. Will it stay in the production model? Probably not with the two smaller screens at both ends that display images from the cameras replacing the side mirrors. Also, the yoke-style steering wheel is likely to give way to a more conventional steering wheel on North American-bound models.
SHM wants to redefine the mobility space and entertainment space by seamlessly integrating real and virtual worlds. To that end, it has teamed up with video game specialist Epic Games to explore new possibilities by fully utilizing the Unreal Engine.
Missing Specs
Since the reveal took place at CES, SHM understandably emphasized the technological aspects of the AFEELA concept, starting with a Snapdragon digital platform from Qualcomm Technologies that will power various systems including those enabling Level 3 autonomous driving in certain conditions.
The car is equipped with a total of 45 cameras and sensors inside and out, together with 800 TOPS of maximum computing power for ECU. That's 800 trillion operations per second, just to be clear.
Battery capacity and range have not been specified yet. In fact, we know very little about the powertrain other than the AWD system (the Vision-S had dual motors generating a total of 536 horsepower). Further details will be shared in the next two years.
In the meantime, Honda prepares to launch its first fully electric crossover, called Prologue, in Canada sometime in 2024.
LISTEN: The Car Guide journalists LP and Gab talk about CES 2023