2024 Chevrolet Silverado, GMC Sierra Get Engine Updates and More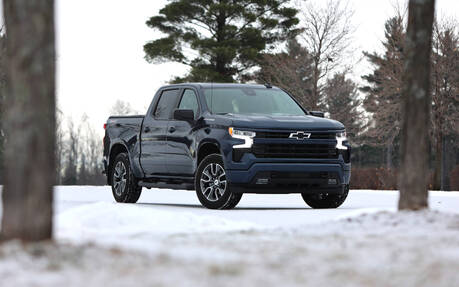 GM's heavy-duty trucks, the Chevrolet Silverado HD and GMC Sierra HD, are not the only ones getting updates for the 2024 model year. The light-duty Silverado 1500 and Sierra 1500 receive a few of their own.
First off, the 3.0-litre inline-six Duramax turbo-diesel engine, which was revised and made more refined for 2023, will be available with the super-rugged Silverado ZR2. In the case of the Sierra 1500 AT4X, which is just as capable off the road, it will come as standard equipment.
The updated Duramax, remember, pairs with a 10-speed automatic transmission and delivers max output of 305 horsepower (a 10 percent increase compared to MY22), and peak torque of 495 lb-ft. (a 7.6 percent increase from MY22).
Meanwhile, the turbocharged 2.7-litre four-cylinder engine will now carry the name TurboMax. This one produces 310 horsepower and 430 lb-ft. of torque, giving it a max towing capacity of 9,500 lbs. As we've found out during our test drives, though, it's not really more fuel-efficient than a V6.
New wheel choices and unique paint colours can be specified for 2024, including Lakeshore Blue and Slate Gray for the Silverado, and Downpour and Thunderstorm Gray for the Sierra. Additionally, an active exhaust and power retractable assist steps are available on more models.
The 2024 Chevrolet Silverado 1500 and GMC Sierra 1500 will go on sale this summer. Expect prices to increase slightly.
As for GM's electric trucks, the 2024 Silverado EV is slated to launch this fall in top-line RST trim, but deliveries in Canada will really get going in the spring of 2024. When it comes to the GMC Sierra EV, there won't be a 2024 model here, so Canadians will have to wait for the 2025 model.
Watch: Chevrolet Unveils Silverado ZR2