2015 Volvo S60 Polestar: Scandinavian Fire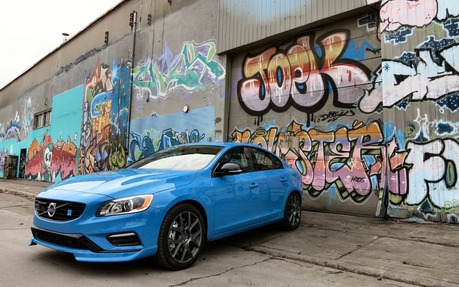 The 2015 Volvo S60 Polestar is proof positive that the sleeping Swedish giant has been awakened.  After close to a decade of uncertainty concerning its North American strategy - and dealing with a line-up that felt more elderly than electrifying - Volvo is making a legitimate play to cement its place at the European luxury table.  The S60 Polestar is an important piece of the brand's new vitality, a sedan intended to flank segment-mates such as the BMW 335i and the Audi S4 with Scandinavian power and handling prowess the likes of which have never before been seen.
With Friends Like These
If the Polestar name sounds familiar, that's probably because you're one of the select few who've been haunting Volvo dealerships over the past few years.  For quite some time Polestar Performance has been offering the hi-po expertise it gained running Volvo's factory touring car racing teams to street sedans and wagons in the form of hop-up packages.  However, the 2015 Volvo S60 Polestar represents the first full-on development effort from the engineers and designers that has made it to showrooms.
Based on the S60 T-6 R-Design, the S60 Polestar makes modest improvements to the car's 3.0-litre six-cylinder motor, introducing a twin-scroll turbocharger in place of the stock unit and reprogramming the vehicle's engine management system to produce 345 horsepower and 369 lb-ft of torque (a slight bump over the R-Design's 325 horses and 354 lb-ft of twist).  The real magic happens on the chassis side, where manually-adjustable Ohlin shock absorbers combine with much stiffer springs and 20-inch rims to provide more effective control over body movement in corners.
Other enhancements from the Polestar playbook include a sport exhaust system that sounds gloriously mellifluous at full throttle, an all-wheel drive system that has been retuned for performance rather than fuel efficiency (and which includes a launch control feature), and six-piston Brembo front brakes (that are admittedly overkill).  There's no manual gearbox available with the S60 Polestar, but you do get a Sport mode for the six-speed automatic transmission along with steering wheel-mounted paddle shifters.
Make Mine Rebel Blue
The test vehicle I drove was sprayed in an eye-catching Rebel Blue (one of two available colours, the other being Black Sapphire), an electric sky-shade that was the perfect complement to the car's aggressively aerodynamic body work.  From the bulging air dam to the dual exhaust to the rear spoiler it's clear to all around you that the Volvo S60 Polestar has come to party - an impression that's only slightly dampened by the rectangular safety sensor that somewhat spoils the car's front grille.  If only the car's interior could match the promise of its sheet metal: while the S60's cabin is functional and sports blue-stitched buckets to match the exterior paint, it's also much plainer than one would expect from a luxury car, particularly the dashboard and centre stack.
Safety Remains A Watchword
The presence of that incongruous plastic piece on the grille indicates that safety is still a key buzzword at Volvo, even though the rest of the industry has caught up, and in some cases surpassed the automaker at what was once it's defining characteristic.  The Polestar comes with a raft of safety features, including forward collision warning (with automatic braking at lower speeds), a pedestrian and cyclist detection feature that will also stop the car if you don't react in time, a blind spot monitoring system, a lane departure warning system, and a sentinel that keeps track of whether you are paying attention to the road or not.  To be honest, with all of these features activated at the same time I found the barrage of warning lights and sounds to be more irritating than anything else, but Volvo lets you disable them a la carte so you can sculpt your own personal safety net.
A Whole Lot Of Fun
Just a couple of weeks ago I spent a significant amount of time piloting BMW's latest-generation M3 sedan, which wore a very similar blue on its muscular haunches and bulging grille.  There were numerous instances behind the wheel of the Volvo S60 Polestar where I found myself favourably comparing the Swede to its would-be German bogey.  This was especially true when I mashed the Polestar's throttle to the floor, for although it lacked the 100-160 km/h rush of the M3 it was certainly its equal from a dig (an impression backed up by the car's 4.7-second 0-96 km/h time).
Even when travelling on a less-than-straight road the S60 Polestar acquitted itself admirably, its all-wheel drive system expertly managing torque delivery as I hustled the car from one corner to another.  In automatic mode the transmission stayed smooth when left in Drive, but selecting Sport revealed an unwelcome, and abrupt character to the gearbox that indicates room for improvement.  Paddle shifts weren't immediate, but did arrive in time to matter.
A Better Tomorrow
If the 2015 Volvo S60 Polestar is any indication, the automaker that once was lost has now found its way into a better tomorrow.  To have built a car with such a unique personality, one that doesn't ape its continental rivals but rather shows a different path to performance than is currently en vogue, is a necessary step in rebuilding a brand identity that simply can no longer be satisfied with a safety-first approach.  Volvo has always hinted at its performance chops, and the decision to bring Polestar Performance more prominently into the mix has proved to be an inspired one.  The S60 Polestar (and its V60 Polestar wagon twin) is enjoyable to drive, fun to look at, and (if you can get past its anachronistic interior and slightly-too-high price point) makes a worthy four-season alternative to its BMW and Audi competitors.
Test drive report
Test model

2015 Volvo S60

Trim level
Polestar
Price range
$37,750 – $54,000
Price as tested
CA$66,895
Warranty (basic)
4 years/80,000 km
Warranty (powertrain)
4 years/80,000 km
Fuel economy (city/highway/observed)
13.1 / 9.0 / 19.0 L/100km
Options
N/A
Competitive models
Audi A4, BMW 3 Series, Cadillac CTS, Lexus IS
Strong points

Quick, Quick, Quick!
Standard all-wheel drive
Great exterior styling
Pleasing sound from performance exhaust

Weak points

Interior feels dated
Expensive compared to other high performance sedans in its class
Transmission's Sport mode not as smooth as it needs to be
No manual option

Editor's rating
Fuel economy
About as good as a 345 horsepower, all-wheel drive sedan can hope to be.
Value
I'd like the Polestar a lot more if it was $10,000 cheaper - but you pay nearly $8k more than the top-of-the-line T6 R-Design for the bright blue Volvo.
Styling
The best looking modern Volvo, aside from the V60 Polestar wagon.
Comfort
As nice to drive at 3/10ths as it is at 9/10ths.
Performance
Astonishingly quick in a straight line, doesn't get lost in the corners either.
Overall
A very strong outing from Volvo, which has never before built a sedan as interesting to drive as this one.