Chevrolet Corvette 2020 : Technical Specifications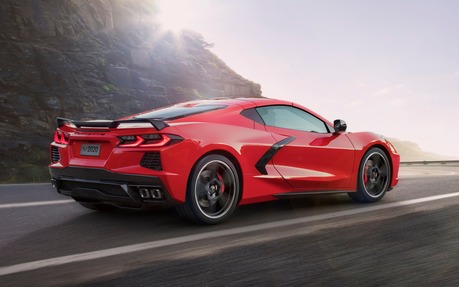 The officially unveiled 2020 Chevrolet Corvette represents the eighth generation of General Motors' legendary sports car. This version, also called C8, clearly sets itself apart from the seven previous generations by its mid-mounted engine layout.
Just for fun, we complied the exterior and interior dimensions of each of the eight generations of the Corvette, in addition to some technical specifications of base versions. To make things easier, we based the numbers on the last model year of each generation, since it's usually the one that boasts the highest output and the best performance.
Since the Corvette C5 (1997-2004), the car's wheelbase has been stretched with every redesign, and only the C3 (1968-1982) was longer overall than the C8. And since the C6 (2005-2013), the front track (wheel width) is wider than the rear track.
Regarding interior space, the 2020 Chevrolet Corvette offers slightly less legroom, shoulder room and hip room. It's worth mentioning that the new car is some 30 mm narrower. The trunk, or more precisely, two trunks combine for a volume of 357 litres, but GM promises that two golf bags will still fit.
Under the hood, the Corvette C8 gets a 45-horsepower bump, and we note a constant output increase across the eight generations, except for the Corvette C3 that, like many cars in the 70s, fell victim to the oil crisis. Curiously, disk brake diameter and tires are now smaller compared to those of the Corvette C7 (2014-2019).
Check out the comparative chart of the Chevrolet Corvette generations C1 through C8.