2020 Honda Civic Hatchback: The Practical Alternative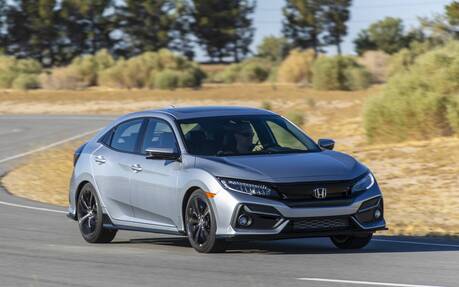 Canada's best-selling car, the Honda Civic, added a versatile and stylish five-door variant to its lineup back in 2017. We're of course talking about the Civic Hatchback.
SUVs seem to get all the spotlight, but the reality is that about 27 percent of consumers still prefer cars. Half a million were sold in the country last year to go along with the 4.8 million that found a home in U.S. driveways.
Among them, the Honda Civic has been No. 1 in sales in Canada since 1998. This impressive success can be credited to a long list of desirable features and attributes, but we should not overlook the wide selection of models and trim levels that are available to customers.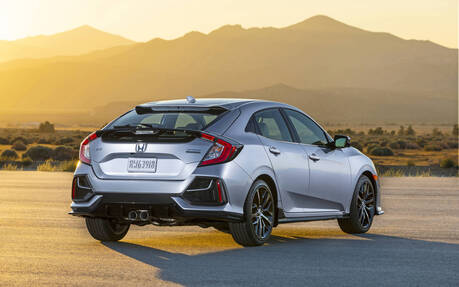 The tenth-generation Civic was launched for 2016 in sedan and coupe body styles. As mentioned up top, the Civic Hatchback followed a year later. For 2020, cosmetic revisions were made to the front and rear fascias for a more modern look. Practicality, fortunately, remains unchanged.
Many people love this five-door Civic as a natural extension of the sedan in a more versatile and handy package. Just lift the rear hatch and you'll see a large opening and an equally large cargo area. In fact, the Civic Hatchback's trunk capacity is nearly double that of the sedan (728 L vs. 428 L). When you fold the 60/40-split rear seats, you get more than triple the room (1,308 L). That last number is similar to the total cargo capacity in the Mazda3 Sport and Toyota Corolla Hatchback, but smaller than that of the Volkswagen Golf (1,521 L).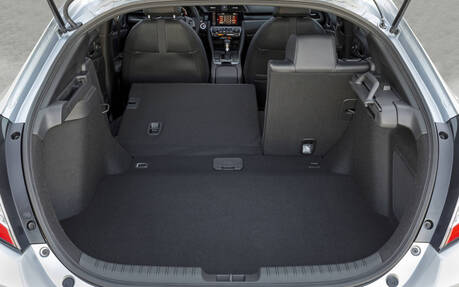 Forget the Civic Coupe
Honda recently announced the elimination of the Civic Coupe for 2021, but sales of that variant were marginal at best. Plus, the Civic Hatchback offers a coupe-like profile, anyway. For our money, there was no point in settling for the two-door model.
And who needs an SUV, really? At 4.5 metres long, the Civic Hatchback is roughly the same length as the Honda CR-V, although the latter boasts twice the cargo volume with the rear seats folded. Sure, towing is not recommended with this Civic (the CR-V was designed for that with a rating of 680 kg), but the sales numbers show that many people don't want an SUV and are more than happy with a hatchback that's big enough to fit a bicycle, large boxes and more.
Starting at $24,190, the 2020 Honda Civic Hatchback undercuts the CR-V by $4,500. Even the more generously equipped Hatchback Sport ($27,890) costs less. And remember, the engine is the same. Both the Civic Hatchback and CR-V feature a turbocharged 1.5-litre four-cylinder. The former does have a slightly higher compression ratio (10.6:1 vs. 10.3:1), but also lower boost pressure (16.5 psi vs. 18.5 psi).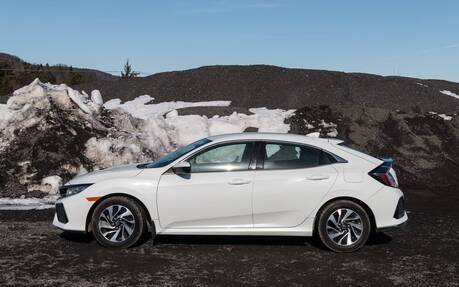 Two Engine Calibrations
Honda offers a 174-horsepower engine in the base LX model, with peak torque of 162 pound-feet achieved from 1,700-5,500 rpm when mated to the optional CVT ($1,300), or 167 pound-feet with the standard six-speed manual gearbox. Regular gas is enough here.
In Sport and Sport Touring models, the engine is cranked up to 180 horsepower and either 162 or 177 pound-feet of torque depending on the transmission choice. However, you must feed it with premium gas.
This is an odd move by Honda as performance levels are almost identical. The only real difference is the extra $0.20 you'll pay for every litre you put in the tank. The Civic Hatchback officially burns around 7 L/100 km on average, which we validated with our automatic Civic Sport Touring tester. If you drive 20,000 kilometres annually, you'll waste approximately $300.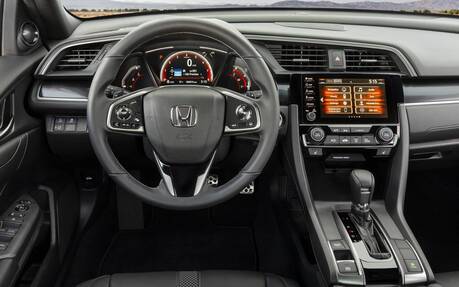 As far as we're concerned, a CVT-equipped Civic Hatchback LX (the most fuel-efficient of all Civic variants with a combined rating of 6.9 L/100 km) is the most desirable and sensible purchase you can make in Honda's compact car lineup.
Standard equipment includes heated front seats, Bluetooth, Apple CarPlay, Android Auto, adaptive cruise control, air conditioning, power windows and more. All models have the same compliant independent suspension and sharp power steering. The base LX also comes with 16-inch alloy wheels that require cheaper winter tires than the 18-inch wheels on other Hatchback  models, while offering a shorter turning radius (5.4 m vs. 5.7 m).
Whichever Civic Hatchback you choose, you'll benefit from the comprehensive Honda Sensing suite of advanced driver assistance systems. The only missing goodies in LX trim are the fabulous LaneWatch blind-spot monitoring system, LED headlights and paddle shifters on the steering wheel.
Test drive report
Test model

2020 Honda Civic

Trim level
LX hatchback (auto)
Price range
$25,960 – $43,690
Price as tested
25 490 $
Warranty (basic)
3 years/60,000 km
Warranty (powertrain)
5 years/100,000 km
Fuel economy (city/highway/observed)
7,7 / 6,0 / 7,1 L/100km
Options
N/A
Competitive models
2020 Nissan Sentra, 2020 Toyota Corolla, 2020 Subaru Impreza, 2020 Volkswagen Golf, 2020 Mazda Mazda3, 2020 Hyundai Elantra, 2020 Kia Forte
Strong points

Predictable and fundamentally sound on the road
Large and practical cargo area
Comfortable front seats

Weak points

Useless 180-hp engine
Limited rearward visibility
Tight rear-seat room

Editor's rating
Fuel economy
Comfort
Performance
Infotainment
Driving
Overall