Audi Leaves Door Open for RS Q5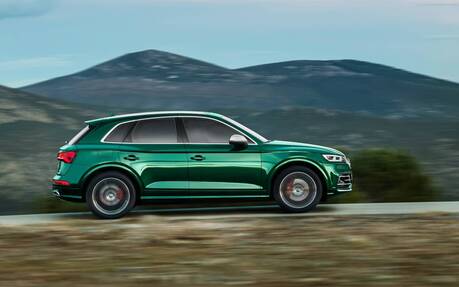 Is something missing with the Audi Q5? Not really. In fact, it's the reason why this model is The Car Guide's Best Buy among compact luxury SUVs for the third consecutive year.
However, if you're one of those who answered an RS Q5 variant, you might have a good point. Audi knows it, and the good news is that the company is leaving the door open.
Before going any further, let's remind you that the current lineup includes the base Q5 with a turbocharged 2.0-litre four-cylinder engine rated at 261 horsepower, the Q5 TFSI e plug-in hybrid which adds an electric motor for a total of 362 horsepower, and the sporty SQ5 powered by a turbocharged 3.0-litre V6 delivering 349 horsepower.
The reality is that the popularity of high-performance compact SUVs is rising—just ask all the other German manufacturers. The list includes the Mercedes-AMG GLC 63 S (503 horsepower), BMW X3 M and X4 M (up to 503 horsepower) and Porsche Macan Turbo (434 horsepower). Don't forget the Alfa Romeo Stelvio Quadrifoglio (505 horsepower) and Jaguar F-PACE SVR (542 horsepower).
Audi already offers the large RS Q8 with 590 horsepower and, in Europe, the sub-compact RS Q3 with 400 horsepower. So why not squeeze an RS Q5 in between?
"We're happy that our RS models are receiving such a good reception," Audi's Q5 program manager Michaela Benz told Autocar in an interview. "But we will start with the normal SQ5 models in their respective markets and see what comes."
Audi is certainly capable of producing a high-performance RS Q5 that would unleash approximately 500 horsepower. In addition to the RS Q8, the RS 6 Avant wagon and RS 7 Sportback five-door coupe are good examples. What's more, demand for compact SUVs is much stronger than that for every other type of SUVs.
Let's keep our fingers crossed!
Watch: 2020 Audi RS Q8 Test Drive