2020 Audi RS 6 Avant: The Most Badass Wagon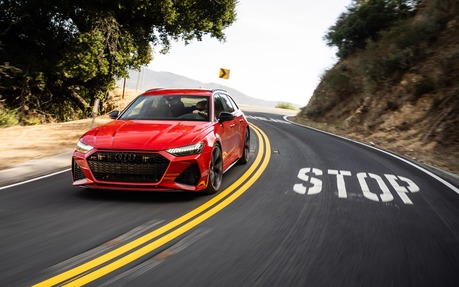 Performance enthusiasts have been waiting for it for a long time, and now it's about to go on sale in Canada. The 2020 Audi RS 6 Avant arrives next year as a sinister-looking, 590-horsepower wagon and a total badass.
Out first drive took place in California's Malibu area, a hotbed for Lamborghinis, McLarens and the like. While not an exotic sports car, this new Audi is almost as magnetic in terms of attraction. We can't count the number of people who wanted to get closer and take a better look at it during our photoshoot.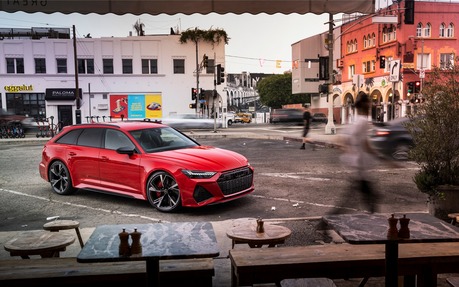 Wicked Looks
With looks that match its extreme performance potential, the RS 6 Avant turns heads even when standing still. Compared with the base A6 Avant, it features a widebody configuration with 40-millimetre fender extensions and muscular wheel arches that accommodate the available 22-inch alloys. A larger roof-mounted rear spoiler and two oval-shaped exhaust tips perfectly integrated to the rear diffuser complete the DTM-inspired design.
We're still talking about a wagon that offers more cargo room than an Audi Q5 and almost as much as a Q8. Are you really sure you need an SUV? We doubt it. Of course, pricing will be much higher in the case of the RS 6 Avant, but if you're looking for any sensible reason to justify the purchase of this mega-powerful wagon, trunk capacity is a good start.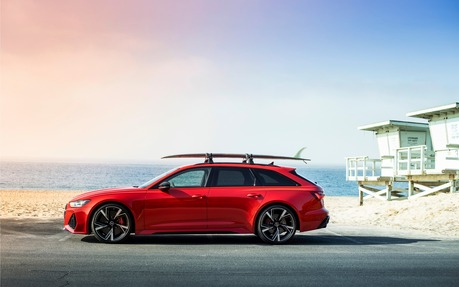 High-tech Luxury and Dynamics
The 2020 Audi RS 6 Avant is first and foremost a luxury car equipped with all the advanced technologies developed by the Ingolstadt-based company. Taking centre stage in the cabin are two colour touchscreens and Audi's Virtual Cockpit with RS-specific displays, the latter providing real-time information about tire pressure, engine power and torque, boost pressure, G-force and more.
I was stunned to see a reading of 1.39 G of lateral acceleration while driving on a deserted stretch of road where the RS 6 Avant could fully let it rip. By the way, our tester featured the RS Dynamic Plus package, which includes a torque-vectoring rear differential and four-wheel steering system for high levels of cornering grip.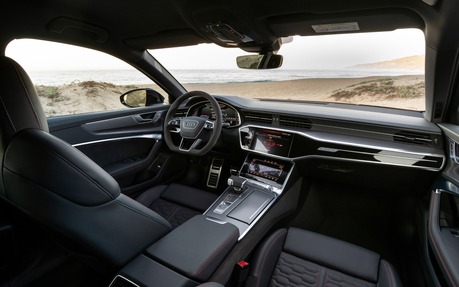 It also had an RS Sport suspension with Dynamic Ride Control, which consists of steel springs and three-position adjustable dampers linked diagonally. When attacking corners at high speeds, special valves regulate the oil flow in the front inside wheel's damper, independently from the opposite wheel, thus reducing body roll and increasing traction.
The only limitation of the RS 6 Avant, from a dynamic standpoint, comes from its heavy weight (over two metric tons). The chassis does a remarkable job of controlling all that mass, mind you, and the available ceramic brakes are ideal for hard stops. In case you're wondering, an adaptive air suspension with selectable modes comes standard.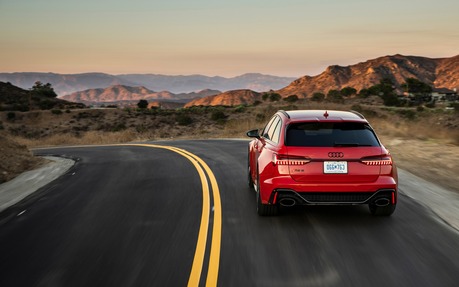 A Mighty Heart
Shared with the latest RS 7 Sportback and the upcoming RS Q8, the twin-turbocharged 4.0-litre V8 engine generates a whopping 590 pound-feet of torque, catapulting the RS 6 Avant from 0-100 km/h in 3.6 seconds with the help of Launch Control. Opting for the Dynamics plus package, meanwhile, increases top speed to 305 km/h.
The eight-speed automatic transmission was developed by ZF and the quattro all-wheel drive system gets RS-specific tuning with a strong rear-wheel bias. The RS 6 Avant also adds an RS button to the steering wheel. You can configure settings for RS1 and RS2 modes depending on your driving preferences.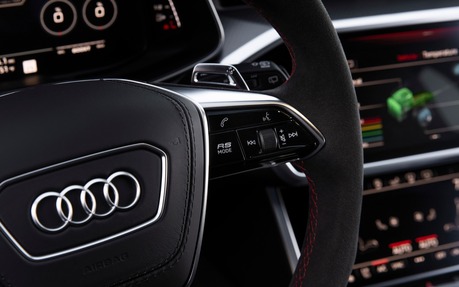 The twin-turbocharged V8 is a monster with a secret green side. It uses a mild hybrid system consisting of a belt-driven alternator and a 48-volt lithium-ion battery, allowing it to coast silently for up to 40 seconds at speeds between 55-160 km/h.
This improves fuel economy on the highway, much like the cylinder deactivation technology that shuts off four of the eight cylinders (2, 3, 5, 8) when cruising under light load. As soon as you resume acceleration, the sleeping cylinders wake up and get back to work.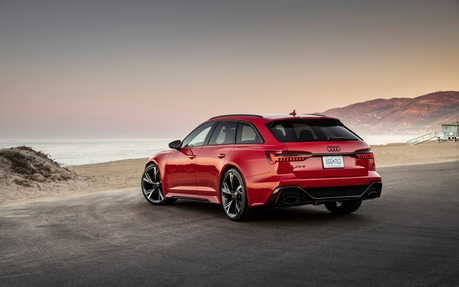 Breaking the Bank
Canadian pricing for the 2020 Audi RS 6 Avant will be announced closer to launch, right about the same time as the RS 7 Sportback. Expect a price range similar to the first-generation RS 7 Sportback ($120,000-$143,400). As for the various options, Audi has a habit of charging big bucks and it won't make an exception for the new wagon.
Competition comes solely from rival German automakers in the form of the autobahn-bred Mercedes-AMG E 63 S Wagon and Porsche Panamera Turbo Sport Turismo. In our opinion, the RS 6 Avant is the most badass, and as some people would say, "Shut up and take my money!"
Test drive report
Test model

2020 Audi A6

Trim level
RS 6 Avant
Price range
N/A
Price as tested
N/A
Warranty (basic)
4 years/80,000 km
Warranty (powertrain)
N/A
Fuel economy (city/highway/observed)
16,3 / 9,1 / 14,0 L/100km
Options
RS Dynamic Plus Pack , RS Design Pack
Competitive models
Acura RLX, BMW 5 Series, Cadillac CT6, Genesis G80, Infiniti Q70, Jaguar XF, Lexus GS, Lincoln Continental, Maserati Ghibli, Mercedes-Benz E-Class, Volvo S90
Strong points

Explosive engine
Exceptional dynamics
Advanced technology
Wicked looks

Weak points

High price
Expensive options
Heavy weight
Poor fuel economy

Editor's rating
Fuel economy
It's hard to be reasonable with so much power under your right foot.
Comfort
The ride is very comfortable... on the slick roads of California.
Performance
Breathtaking performance (0-100 km/h in 3.6 seconds) makes the RS 6 Avant a solid alternative to many sports cars.
Infotainment
The two colour touchscreens boast superb graphics and Apple CarPlay comes standard.
Driving
Outstanding. The only limitation of the RS 6 Avant, from a dynamic standpoint, comes from its heavy weight.
Overall
Explosive, racy, playful, yet practical; we love it!