2021 Toyota Corolla Hatchback: Hail the Manual Gearbox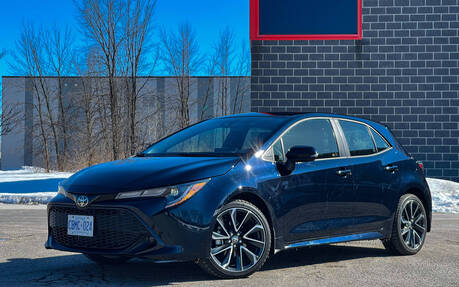 Despite sedans losing giant market shares to SUVs, the Toyota Corolla remains one of the best-selling vehicles in the world. Available across the globe, it provides safe and reliable transportation for countless people and their families.
Part of Toyota's stellar reputation for reliability comes from a calculated approach to new technologies. While every other automaker seemed to be turning to small turbocharged engines a few years ago, Toyota kept offering just a naturally aspirated 1.8-litre four-cylinder. Why? Because it's tough and durable.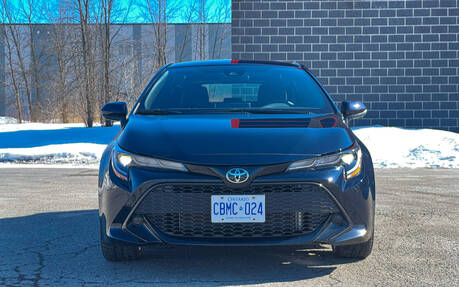 On the other hand, the Corolla is also known for being dull and uninspiring to drive. For more than a decade, it was always the same formula. But now with the latest-generation model, there's a brand new and much improved chassis, a cool hatchback variant, and more importantly a new 2.0-litre engine.
Okay, fine, it doesn't transform the Corolla into a sporty car, like a Honda Civic Si or even a Hyundai Elantra Sport. However, Toyota's venerable compact is significantly more fun as a result.
The 2.0-litre mill is optional in the sedan and standard in the hatchback. What's more, it can be paired with a so-called "intelligent" manual gearbox, which is the one we tested here.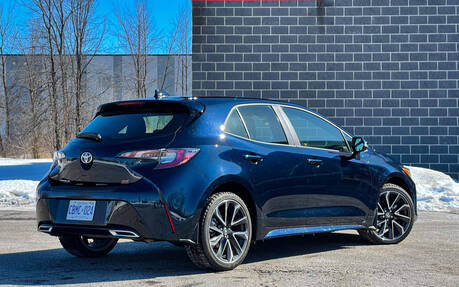 Safe and Snug
As cute as it is, the 2021 Toyota Corolla Hatchback is not very spacious. If you're in the back and there's a six-foot driver sitting in front of you, prepare to have your legs squeezed quite a bit.
For singles and couples, however, the cabin is fine. The front buckets are comfortable no matter how tall you are, and even the base models are equipped with all the safety features you can think of. That's great for peace of mind.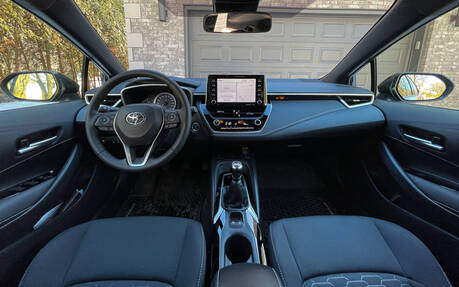 The infotainment system is a tad disappointing, though, with ugly graphics befitting of a much older car. At least you can use Apple CarPlay or Android Auto.
Driving the Corolla Hatchback is far from boring, regardless of what the naysayers want you to believe. Steering assist could be dialed down a little, and more sharpness would be appreciated, but most drivers will be satisfied with it. The stiffer chassis considerably improves handling versus the old Corolla, while the suspension easily adapts to rough pavement. Even with 18-inch wheels, the ride is fairly smooth.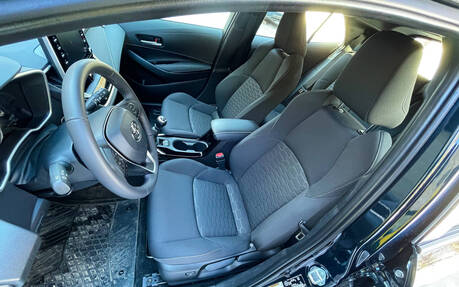 As mentioned above, the hatchback exclusively comes with the 2.0-litre four-cylinder engine, which produces 168 horsepower and 151 pound-feet of torque. It won't pin you to your seat, of course, but acceleration is decent in just about any situation.
Smart Transmission
When it comes to transmissions, you have the standard six-speed manual and an available continuously variable automatic (CVT).
There's only one choice if you consider yourself a driving enthusiast. In typical Toyota fashion, the manual gearbox has a friendly clutch, which makes the Corolla easy to manoeuvre in traffic. Shifting is a breeze, though the clutch pedal's long travel needs some getting used to.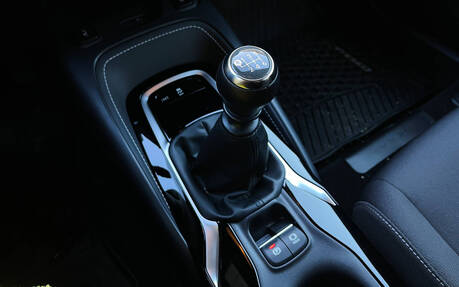 This manual transmission has a cool trick up its sleeve—or stick, if you prefer. There's a small "imt" button that engages the transmission's Intelligent mode, which is basically a rev-match function that makes for smoother downshifts—no heel-toe action required. Anyone can pass for a professional driver with a thing like that. Alas, you have to push the button every time you start the car.
While smarter than conventional manual gearboxes, this unit is significantly less efficient than the Corolla's CVT. Natural Resources Canada rates the two at 7.6 L/100 km and 6.7 L/100 km, respectively, in combined city-highway driving. As mentioned earlier, though, if you want to have a bit of fun behind the wheel, the stick is the way to go.
Ultimately, the 2021 Toyota Corolla Hatchback is a good car that you can buy with utmost confidence. Sure, the interior could use a refresh and a performance variant would be awesome, but the 2.0-litre engine does a nice job in the meantime.
Test drive report
Test model

2021 Toyota Corolla

Trim level
Hatchback S (man)
Price range
$18,990 – $28,490
Price as tested
21 050 $
Warranty (basic)
3 years/60,000 km
Warranty (powertrain)
5 years/100,000 km
Fuel economy (city/highway/observed)
8,4 / 6,7 / 7,3 L/100km
Options
N/A
Competitive models
2021 Honda Civic, 2021 Hyundai Elantra, 2021 Kia Forte, 2021 Mazda Mazda3, 2021 Subaru Impreza, 2021 Nissan Sentra, 2021 Volkswagen Golf
Strong points

Rigid chassis
Intelligent manual transmission
Pleasant 2.0-litre engine
Nice looks

Weak points

Infotainment system needs improvements
Lack of rear-seat space
Fuel economy is a tad disappointing
Tight trunk

Editor's rating
Fuel economy
We recorded an average of 7.3 L/100 km. Good but not great.
Comfort
Despite a stiffer chassis, the Corolla remains one of the most comfortable cars in its class.
Performance
The extra power from the 2.0L engine makes a good difference.
Infotainment
The system basically has everything you need, but the graphics need a refresh.
Driving
Though fun to drive, the Corolla could use a more responsive steering.
Overall
A good car you can buy with utmost confidence. Too many irritants to deserve a better score.