This Custom 1970 Ford Bronco Could be Yours for $150,000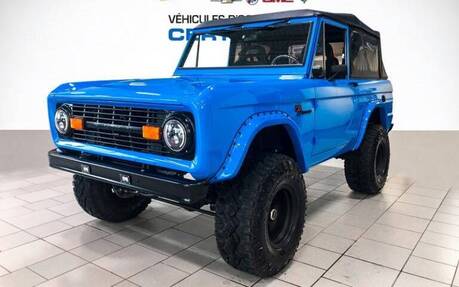 The new Ford Bronco is generating plenty of interest—and frustration. We've talked about the production delays, chip shortage and alarming roof issues. Many customers will have to wait until 2022 to get theirs.
The Bronco craze extends to classic models dating back to 1966, too. Want some proof?
One owner completely restaured and modified his 1970 Bronco before recently trading it in for a brand new Chevrolet Corvette. Now for sale by Action Chevrolet in St-Hubert, Quebec, this unique collector's item is listed at a staggering $149,988. No, it's not a typo.
The sales representative we spoke with said reasonable offers from serious buyers will be accepted, but they will likely need to be pretty close to the asking price. The vehicle is only occasionally on display in the showroom.
The restored body sports fresh electric blue paint with a contrasting black soft top. Goodyear Wrangler DuraTrac tires on all-terrain wheels connect with a lifted suspension that features upgraded dampers and links, while the custom exhaust system has dual side tailpipes. Inside, the PRP racing seats mean business.
Popping up the hood is quite a show as the entire engine bay has been transformed. The transmission is still the same three-speed manual, though. Incredibly, the odometer indicates this precious Bronco has logged just 278 miles (445 km), adding considerable value to the equation.
Any takers?