New DeLorean Alpha 5 Turns to the Future, Forgets About the Past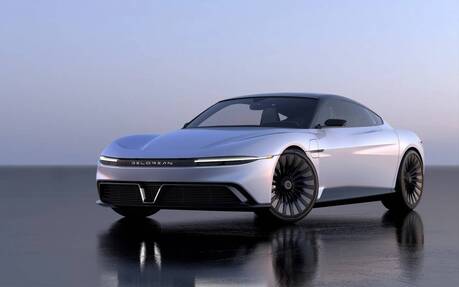 The DeLorean is back. Well, sort of. Forget the early-80s icon that helped Marty McFly and Doc Brown travel in time: this modern interpretation is all about the future.
DeLorean Motor Company, the Humble, Texas-based company which acquired the DeLorean trademarks and vast stocks of parts left over from the original factory and dealers, has revealed the first pictures and details of the car, which goes by the name of Alpha 5. A formal debut in front of a crowd will take place on August 18 at the prestigious Pebble Beach Concours d'Elegance in California.
While it's just a concept for now, the future production model will be very similar, DeLorean says.
Only the Gullwing Doors Have Survived
One thing's for sure, styling is light-years away from the stainless steel-bodied DMC-12. Penned by renowned Italian studio Italdesign, the exterior emphasizes smooth lines and aerodynamic surfaces, as evidenced by a drag coefficient of 0.23. The proportions are those of a grand touring coupe, with a length of 5 metres, a wheelbase of 2.3 metres, a width of 2.04 metres and a height of 1.37 metres.
The ultra-slim headlights sitting above a fake, low-mounted grille, oversized wheels in an eye-catching design, horizontally stretched taillight bars and black finish for the rear fascia and roof initially catch the attention. The rear window louvres are a nod to the original DeLorean.
Obviously, the biggest similarity is the pair of gullwing doors. Their large opening seems to provide fairly easy access to the rear seats. Wait a minute, rear seats? Oh yeah, this new DeLorean can accommodate you and three of your friends.
The interior doesn't feel cramped at all by the looks of it. The futuristic cockpit features a wide digital instrument panel on the other side of the steering wheel, while a second display serves as an extension of the centre console and is used for vehicle settings and entertainment. There is some storage underneath.
Electrifying
The electric powertrain that motivates the DeLorean Alpha 5 is a logical evolution, one that promises much better acceleration than the old Peugeot-Renault-Volvo V6 engine. Sprints from 0-60 mph (97 km/h) are estimated in 2.99 seconds—you can get to 88 mph in 4.35 seconds, for Back to the Future fans who may be wondering—and top speed is rated at 155 mph (250 km/h).
As for range, DeLorean has set a target of at least 480 kilometres thanks to a large high-voltage battery with a capacity of 100+ kWh. The official specs will be determined and announced at a later date.
What do you think?