These Are the 10 Most Anticipated Electric Pickups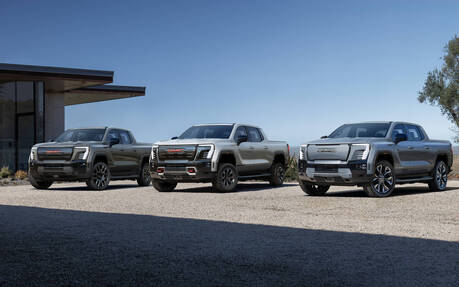 Electric cars are nice, but what about pickups? These machines are all over the place, and it's about time they get the battery treatment, too.
Several automakers are actively working on fully electric trucks. Heck, a pair of models have already hit the road in Canada as we write these lines. Others will come from mainstream and niche players alike.
Without further ado, here are 10 highly anticipated electric pickups you should keep an eye on, in alphabetical order:
Atlis XT
It's been nearly four years since Atlis promised to launch an electric pickup. Back in January 2019, the Arizona-based company showed a concept with mouth-watering specs including up to 805 km of range and max towing capacity of 20,000 lbs. Deliveries were supposed to start as early as 2020, but of course you know what happened. Customers can still order a copy of the Atlis XT on the manufacturer's website.
Canoo
Canoo, also based in the U.S., offers a pretty unique take on the electric pickup genre. With a pod-like front end featuring a large glass area and an extremely short overhang that allows great angles for off-road driving, it doesn't look anything like what the competition has in store. The Canoo pickup, which doesn't have an official name yet, will share components with an SUV the company plans to launch by the end of 2022.
Chevrolet Silverado EV
This one is not a concept but rather an actual production model. The 2024 Chevrolet Silverado EV is expected to hit the road in the fall of 2023 as a fully electric variant of the popular Silverado. Look for maximum towing of up to 10,000 lbs. and a range of up to 640 km. The top-line RST First Edition model will arrive first, priced from $119,948. Cheaper models will follow including a Work Truck (WT) for businesses starting at $52,448.
Ford F-150 Lightning
You might have spotted one (or two, or three) already since the Ford F-150 Lightning debuted as a 2022 model. Visually similar to the conventionally powered F-150, it can be specified with a 98kWh or 131kWh battery. Maximum range and towing capacity are rated at 515 km and 10,000 lbs., respectively. Unfortunately, delivery times are ridiculously long due to demand far exceeding supply at the moment.
GMC Hummer EV
Similar to the Silverado EV, the GMC Hummer EV is built on GM's Ultium platform. With three electric motors producing up to 1,000 horsepower, this beast of a truck is a way for the automaker to showcase its technological know-how in the era of electrification. Highlights include Super Cruise hands-free driving and a Crab Walk feature enabling the Hummer EV to move diagonally—perfect for tight spots.
GMC Sierra EV
The same platform that underpins the Silverado EV and Hummer EV naturally can be found on the GMC Sierra EV. This particular electric pickup stands out with signature GMC design cues and a luxurious Denali trim. Performance levels are on par with the Chevy's, but prepare to wait even longer to get one. The Sierra EV will launch in the U.S. as a 2024 model and in Canada a year later.
Lordstown Endurance
An electric truck in Stormtrooper attire, the Lordstown Endurance is an intriguing prospect. Set to go on sale in the U.S. in 2023 (initially in Ohio, Michigan and California only), it features a quad-motor system and 109kWh battery. Specs are somewhat similar to those of the F-150 Lightning Pro. Will it find its way to Canada? We'll see.
Ram 1500 EV
Ram is falling behind in the electric pickup race. While Ford, Chevrolet and GMC all have something to show for, Ram continues to make people wait. Great news: the battery-powered Ram 1500 Revolution concept will debut at CES in Las Vegas on January 5, 2023.
Rivian R1T
The launch of the Rivian R1T has been delayed a few times, and the truck only received its certification from Transport Canada in late September of this year. However, the first few units in the country were recently delivered to Rivian staff members in Vancouver. The R1T will be followed by the R1S SUV. In related news, Rivian plans to install more than 3,500 fast chargers at over 600 locations in the U.S. and Canada by the end of 2023.
Tesla Cybertruck
Unveiled in November 2019, the Tesla Cybertruck has yet to show up in production form (deliveries were initially scheduled to begin in late 2021). Three years later, the Cybertruck is still a mirage. Will it finally roll off the line in 2023 as Elon Musk promised several months ago? With a rumoured 1.6 million reservations to date, a lot of people sure hope so.