2024 Ford F-150 Gets a Few Exterior, Powertrain and Tech Updates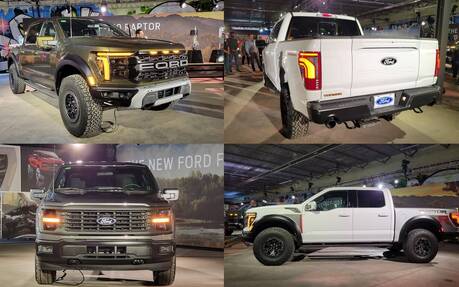 The Ford F-150's popularity is larger than life. In fact, the blue oval's F-Series has been the top-selling truck in America for the last 46 years. At a time when everyone is called upon to reduce their consumption of resources, such popularity may raise questions, but the fact remains that this leading horse always knows how to charm an every-diversifying class of customers, offering more variants, more engines and more technologies across the board.
For 2024, Ford is updating its superstar with exterior modifications, more equipment and more technologies and changes in the powertrain lineup.
Farewell, Naturally Aspirated V6!
First off, the less popular naturally aspirated 3.3-liter V6 is bowing out this year. Instead, the turbocharged 2.7-liter EcoBoost six-cylinder takes its place as the standard engine, delivering 325 hp and 400 lb-ft of torque. The 3.5-liter EcoBoost, 3.5-liter PowerBoost hybrid and 5.0-liter V8 engines remain available and unchanged. The 5.2-liter V8 that powers the Raptor R is also still in the lineup. It currently boasts 700 hp and 640 lb-ft of torque, but could call on a few more horses to join the cavalry for 2024. In terms of towing capacity, the F-150 remains at the top with a maximum deliverable capacity of 13,500 lbs.
PowerBoost hybrids are gaining in popularity in the F-150 line. According to the brand, they currently account for 10% of sales. Of course, the F-150 Hybrid still offers the ability to extract power from the system's battery to power tools and equipment, thanks to its ProPower technology. As standard, all F-150 hybrids can offer a power output of 2.4 kW, with an optional capacity of 7.2 kW.
Light Cosmetic Improvements, New Available Tailgate
As you can see from the photos, the F-150 2024 receives a few cosmetic iterations to its front end that aim to bring it up to date. In addition, the grille has been revised, and two sets of light clusters are available. Projection LED units are available on Lariat variants and are standard on higher variants. Inside, a 12-inch digital instrument cluster and infotainment system screen of the same format are standard on all models.
The three distinct box lengths are still on the menu (5'5", 6'5" and 8'), but can now be matched with an available new tailgate. This one opens from left to right, like a common door, in three positions (37 degrees, 70 degrees and 100 degrees). According to Ford, this makes it easier to load the bed and provides better access to its contents when a trailer is hitched to the truck.
Off-Road Variants Get New Bits
For 2024, the F-150 Tremor gets a new model-specific front end that can accommodate more off-road equipment, including a 12,000-lb. Warn winch available through Ford Performance. The F-150 Raptor, meanwhile, inherits the all-new iteration of FOX Dual Live Valve shock absorbers that improve low- and high-speed trail performance, as well as getting cosmetic iterations and a new model-specific Shelter Green body color.
Finally, Ford says it has simplified the F-150's ever-complex ordering process to make choosing powertrains, features and equipment easier. Reservations for the F-150 2024 will open on September 13, 2024, while the official on-sale date is scheduled for early 2024.
In terms of pricing, the stripped XL 4x2 regular cab model starts at $49,655. The STX 4x4 Super Cab starts at $62,740. A Lariat model costs $80,495, and you'll have to spend at least $100,750 for the Platinum model.