Ford Recalls 185,000 Trucks in Canada, Most of Them New F-150s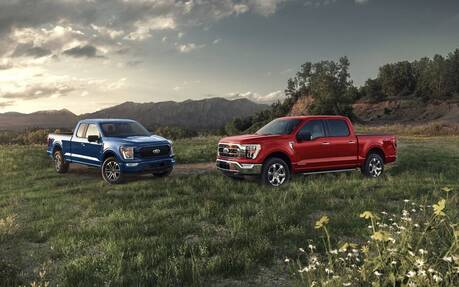 Ford this week announced three separate recalls that affect a total of approximately 185,000 pickups across Canada.
The largest of these recalls is specific to the popular F-150 and covers the 2021-2023 model years, meaning only the latest generation is affected. There are 178,109 units in Canada, which add to the 870,000 others that were recalled last week in the U.S.
According to the automaker, the rear axle wiring harness could rub against the rear axle housing. Over time, this could cause damage to the wiring harness, and the electric parking brake could apply suddenly while driving, increasing the risk of a crash.
Ford dealers will inspect and secure the rear axle wiring harness. If damage is found, they will simply replace it.
The two other recalls involve far fewer vehicles. First, 6,571 new 2023 Ford Super Duty pickups (F-250, F-350, F-450 and F-550) as well as some 2023 Escape crossovers may have a digital instrument cluster that remains blank, causing the gauges and other instruments not to display. Said instrument cluster needs to be replaced or possibly just the control module, depending on what dealers find during the inspection.
Finally, 201 Super Duty trucks from the same model year may pose a risk to front-seat occupants as the window automatic reversal system may not detect an obstruction when the window is closing. In this case, an update to the driver and passenger door module software is required.
So far this year, Ford has announced 23 separate recalls in Canada, most of them affecting late-model vehicles.
Watch: Ford F-150 PowerBoost Review