2023 Volkswagen ID.4: Next in Line to the Throne?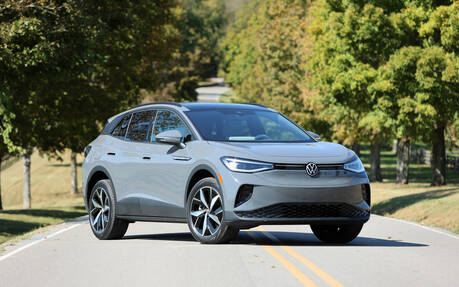 Volkswagen Canada executives believe the ID.4 could become their best-selling model in the country, ahead of the Jetta and even the Tiguan, which sold a little more than 19,000 units last year. We're a long way from getting to that point, however, as ID.4 deliveries are still few and far between.
With demand massively exceeding supply, the automaker had to stop taking orders several months ago (customers were told they would have to wait over 24 months). But now that production for the North American market has started in Chattanooga, Tennessee, Canadian dealers and customers can finally see light at the end of the tunnel.
The ID.4 is being assembled at the same plant as the Atlas and Atlas Cross Sport, which currently employs more than 4,000 people. The goal is to build 7,000 units a month, exclusively for Canada, the U.S. and Mexico. Roughly 10 percent of those are expected to head north, which will significantly reduce delivery times.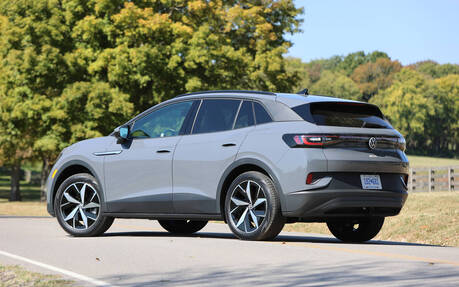 Clearly, the ID.4 is bound to enjoy great success and become a star for Volkswagen in North America. Going forward, orders for all of the company's EVs will go through a dedicated online platform called VolksKlick to ensure more transparency and give all customers the same chances of getting their hands on a unit.
Lower Base Price
Volkswagen Canada recently announced pricing for the 2023 ID.4, which includes a lower entry point at a time when automakers are jacking up prices. What's the catch? There's a new base model with FWD and a smaller 62kWh battery offering shorter range (335 km) and starting at $43,995 plus freight and delivery. It's aimed at value-minded buyers with an actual cost similar to that of a base Tiguan once federal and provincial EV rebates are factored into the equation.
Approximately nine out of ten customers in Canada will opt for an AWD variant, mind you, which features an 82kWh battery and retails from $52,995. Output is 295 horsepower instead of 201 horsepower, while maximum range is rated at 410 km—pretty much on par with the Hyundai IONIQ 5. Incidentally, you can still order a FWD model with the larger pack, resulting in a range of 443 km.
Europe vs. North America
The German automaker has wisely made a few adjustments to the North American-spec ID.4. For starters, the bumpers and lighting units are slightly redesigned, while new body colours and wheel designs are available. When compared to previous ID.4 models coming from Europe, build quality, fit and finish also seem to be a notch above.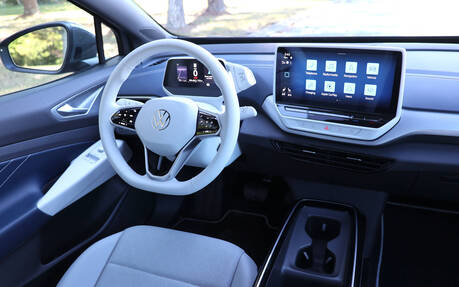 Inside, the centre console is taller with more storage and a fixed armrest replacing the dual folding armrests—a quirky feature many Canadian and U.S. customers didn't seem to like. Once again, there are new colour options, including a combination of grey with marine blue and white. The result is quite attractive, although the white steering wheel may not be the best idea.
The generously equipped ID.4 can be made more luxurious with the Statement Package ($4,700), which adds synthetic leather surfaces, trizone climate control, door handle lighting and puddle lamps, among other things. Oh, I forgot to mention the 30-colour ambient lighting system, a great way to adapt the interior to your mood.
For another $1,250, you can tack on a fixed panoramic roof that fills the cabin with warm sunlight. As for the optional heat pump at $1,500, I don't see why any Canadian customer would skip it. Of course, this range-extending feature should be standard, but that would make the base price less enticing.
Rediscovering the ID.4
The number of EV offerings on the market keeps growing, so the ID.4 has more competitors to deal with. Honestly, the early models were a bit underwhelming—and certainly less inspiring to drive than, say, a Ford Mustang Mach-E. But guess what? Following our test drive from Nashville to Chattanooga, the ID.4 suddenly makes a more convincing case. As mentioned earlier, build quality is noticeably better now.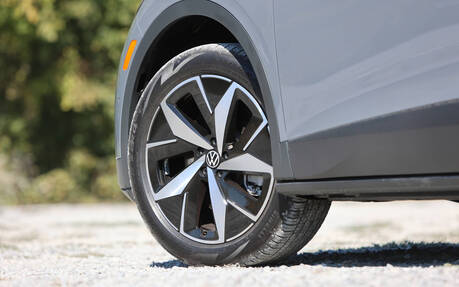 If you want fun, sharp handling, you should still go with Ford's crossover, mind you. The ID.4 doesn't provide the same level of excitement, and on top of that it doesn't even enable one-pedal driving like most other EVs. Why? Volkswagen says the extra effort required under acceleration to make up for resistance by the regenerative braking system would eliminate all the benefits provided by the technology. Maybe they're right. Or not. What I can tell you is that one-pedal driving is a pleasant feature to have and something a number of customers look for in a modern EV.
For sure, the ID.4 proves agile, delivers ample power and feels smaller and lighter than its Korean rivals. In terms of versatility, it's one of the best EVs out there. Granted, no trunk can be found under the hood, not even a tiny one, but cargo capacity is unmatched (there's almost as much room as in the Tiguan) thanks in part to under-floor storage. Rear-seat legroom, meanwhile, is extremely generous.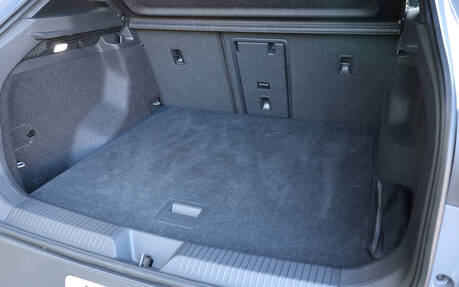 The driving environment is admittedly a bit disconcerting at first, but it turns out to be quite ergonomic. The unique gear selector next to the instrument panel is a clever touch, while the driver-oriented centre touchscreen is easy to use. By the way, the infotainment system seems to respond more quickly to the driver's input now.
Sadly, the lack of physical buttons for the HVAC system and radio continues to annoy (it's even worse during winter if you happen to wear gloves). On the plus side, I really like the light bar that runs across the dashboard and uses glowing visual cues to telegraph incoming calls, brake warnings, charge status and more. Called ID. Light, it's something we'll see in other Volkswagen EVs in the future.
Welcome to Volkswagen!
According to Volkswagen, 63 percent of ID.4 customers are new to the brand, which speaks volumes about the role and significance of this product, aimed at a different type of buyer than the Golf, Jetta and Passat. It must be said that Volkswagen hasn't always enjoyed success in the U.S. Developing and selling Americanized and locally built vehicles seems to be the way to go now, as evidenced by the Atlas—VW's most popular model south of the border.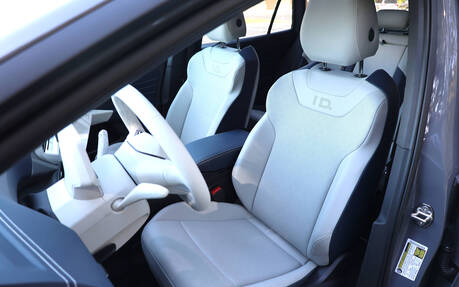 The addition of the ID.4 will naturally help the automaker expand its presence its North America, followed by the ID.Buzz van and ID.Aero midsize sedan in 2024 (the latter a replacement for the outgoing Passat). Until these two new models arrive, the biggest challenge for Volkswagen will be to build as many units as possible in order to dramatically speed up ID.4 deliveries.
One last thing you must know about: whereas the ID.4 used to be available to Quebec, Ontario and B.C. customers only, all Canadians from coast to coast will now be able to get one in their driveway.
Test drive report
Test model

2023 Volkswagen ID.4

Trim level
Pro TI
Price range
$43,995 – $52,995
Price as tested
60 445 $
Warranty (basic)
4 years/80,000 km
Warranty (powertrain)
5 years/100,000 km
Fuel economy (city/highway/observed)
N/A
Options
Distinction Package ($4,700), heat pump ($1,500), panoramic roof ($1,250)
Competitive models
2023 Ford Mustang Mach-E, 2023 Hyundai IONIQ 5, 2023 Kia EV6, 2023 Nissan Ariya, 2023 Subaru Solterra, 2023 Toyota bZ4X, 2023 Tesla Model Y
Strong points

Comfortable and spacious interior
Surprisingly potent
Competitively priced

Weak points

Super-limited availability (though that will change)
Minimalist instrument panel
Short seat bottoms

Editor's rating
Fuel economy
Energy consumption is advertised at 22 kWh/100 km, which is reasonable.
Comfort
Comfort is one of the strengths of this vehicle, along with interior space.
Performance
With 295 horsepower on tap, the AWD-equipped ID.4 is more than potent enough.
Infotainment
The centre touchscreen is great, but the minimalist instrument panel is disappointing.
Driving
While responsive and surprisingly agile, the ID.4 doesn't have the soul of a GTI.
Overall
A pretty convincing product that's perfectly suited to meet customers' needs, hence the strong demand and long delivery times.